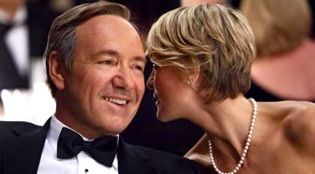 Citing "a general recovery of the brand," Netflix told Wall Street what it wanted to hear with its first-quarter earnings, and then some.
The streaming video/DVD rental company added more than 3 million sign-ups in the quarter, for a total of 36 million subscribers. Its stock soared 24 percent after earnings were announced April 22.
In the U.S., the subscriber count topped 29 million, giving the online video service at least as many subscribers as HBO.
Perhaps to ease any fears of another disastrous price increase such as the one in 2011, Netflix noted it was "very happy" with its $7.99 streaming-only plan ("a low price point").
The unveiling of earnings (a modest profit) was in part a celebration of "House of Cards" with Kevin Spacey (pictured, top), the remake of the U.K. black comedy about politics. The series "provided a halo effect on our entire service," Netflix said.
"Our decision to launch all episodes at once created enormous media and social media buzz," Netflix crowed in its letter to investors (PDF). The company said fears of subscribers signing up for the free trial and canceling after watching the series were more or less unfounded: Fewer than 8,000 subs did the quick cancel.
The company noted its commitment to "exclusive and curated content," saying its deal with Viacom for Nickelodeon, BET and MTV content was being allowed to expire at the end of May, although some shows may be retained.
It pointed to more original programming on the way, all previously announced:
"Orange Is the New Black" from "Weeds" creator Jenji Kohan, "a (women's) prison dramedy" starring Taylor Schilling.
"Derek," about life in a senior center from Brit comic Ricky Gervais, who appears in the series.
"Lilyhammer," season 2 of the mobster-in-hiding comedy about tough guy Steven Van Zandt warming up to Sweden.
"Sense8," a sci-fi thriller from the Wachowski siblings and J. Michael Straszynski about a group of psychically linked people who are being hunted by big brother.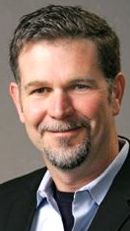 Curiously and without clear context, Netflix pointed out that "Harry Potter was not a phenomenon in book one, compared to later books in the series." Several analysts have questioned the overall benefits of "House of Cards" and the long-term sustainability of Netflix's exclusive content.
Netflix chief Reed Hastings (right) said in a conference call that "House of Cards" had "a nice impact but a gentle impact" on subscriptions. A second season is in the works.
Netflix just debuted Eli Roth's horror series "Hemlock Grove" and plans to revive "Arrested Development" in late May. Those series also use the "marathon viewing" release strategy, with all episodes uploaded at once.
Netflix also said it grew members and revenues faster than content spending.
Hastings said earlier in the month that subscribers watched 4 billion hours' worth of video on Netflix in the quarter.
Netflix also added a subscription plan that allows for four simultaneous streams of content on a single account. The four-stream plan will go for $11.99.
The company cited "a few members with large families" who would pay the extra bucks, but sharing of accounts is widespread even with the current limit of two streams. The family plan is an attempt by Netflix to monetize sharing without alienating the subscriber base.
An overall Netflix price increase isn't expected for at least a year. Hastings has said the company was still "on probation" after the July 2011 Netflix price hike that devastated its stock price and subscriber base. "It wouldn't take much to have that issue flare up again or for us to lose trust," Hastings said in January.
Netflix stock held at $217 the day after the huge run-up, impressive but still way down from the 2011 high of about $305.
On the tech front, Netflix said the latest version of its player would be in some consumer electronics hardware for the holiday season.
The DVD rental unit, which built Netflix, continued to lose business, with almost a quarter of a million subscribers signing off in the quarter.