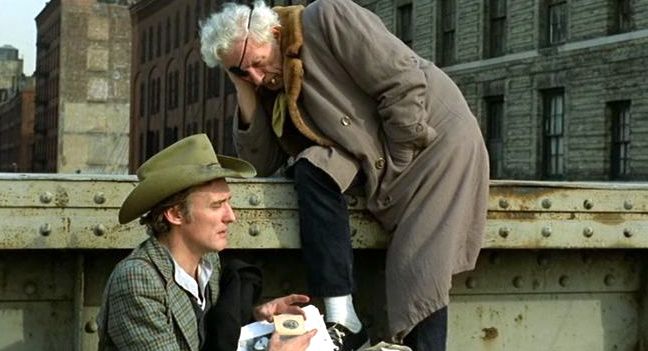 Dennis Hopper, the actor, and Nicholas Ray, the director, had crossed paths before. In 1955. When Hopper played a punk kid in "Rebel Without a Cause," Ray's melodrama about teen alienation that starred James Dean.
Down the road, both found themselves blackballed from movies. Ray's fall came in 1963 as he infamously had to abandon "55 Days in Peking." Actor-director Hopper blew his goodwill from "Easy Rider" on 1970's incoherent "The Last Movie." Both men were legends of substance abuse and bad craziness.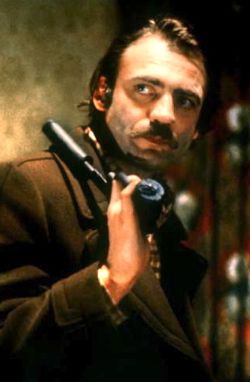 Two decades later, they were reunited as actors in "The American Friend," Wim Wenders' multinational film noir about paranoia, fraud and murder.
The 1977 movie changed the outcasts' lives in profound ways: Hopper began his heroic return from exile, and the terminally ill Ray would find final redemption of a sort with Wenders. In the process, they helped create a classic thriller that reached back to Ray's famous films of the 1950s and ahead to Hopper's chilling work in "Blue Velvet."
Hopper, who worked on nearly 200 films, called "Friend" "one of the best movies I've ever been in." Wenders, he said simply, "is a great master." Audiences getting their first look at the film on the Criterion Collection's handsome new Blu-ray probably will agree.
Criterion's "The American Friend" unspools with the restoration done in 2014 via Wenders' foundation. Video is significantly improved from the previous home video release, the decade-old Anchor Bay DVD — although the persistent film grain remains, as it should. Audio comes upgraded from mono to modest surround. It's a marvelous presentation, as overseen by the director.
The Blu-ray includes the feature-length commentary from the old DVD featuring the German director, with Hopper contributing here and there. (Hopper died in 2010.) There are two new bonus features: Criterion interviews with Wenders and star Bruno Ganz, filmed separately in 2015.
The Criterion Blu-ray also revives the half hour of deleted scenes from the DVD (mostly "leftovers," Wenders admits).
For the "Friend" project, Wenders talked novelist Patricia Highsmith ("Strangers on a Train") into entrusting him with her "Ripley's Game" before it was published in 1974.
"Game" was one of her five books about amoral antihero Tom Ripley (another was "The Talented Mr. Ripley," later made into a hit film in 1999.) "She knew a lot about men," Wenders says of the late author.
Wenders found Highsmith's psychotic con man "a total mystery" and was stumped by the casting. "I'm not gifted in showing bad guys," Wenders recalls. (He recruited fellow directors to play the film's gangsters, including his teacher and close friend Samuel Fuller.)
Wenders initially approached director-actor John Cassavetes to play Ripley. Cassavetes recommended the notorious Hopper. Highsmith wasn't pleased: "That's not Ripley!" the writer complained as she first saw the cowboy hat-wearing Hopper onscreen. (She later came around and proclaimed Hopper the best Ripley, Wenders says.)
Hiring Hopper "was like lobbing a hand grenade" into the script, Wenders admits.
Infused with the spirit of James Dean and fresh out of the jungles of the "Apocalypse Now" shoot, Hopper proceeded to guide Wenders deep into the heart of improvisation. Scenes were rewritten as they were shot; Hopper made up most of his own dialogue. "It felt like I only had to dream it up and it was happening," Wenders says.
The Swiss stage actor Ganz, who went on to star in Wenders' "Wings of Desire," played a German art framer who falls under Ripley's deadly spell. The detail-obsessed Ganz took an immediate dislike to Hopper and his stoned improvisations. The actors worked it out after an on-set fistfight that led to a late-night drinking session. "They fought like cats," Wenders says, then became good friends. The duo's curious chemistry gives "Friend" much of its heart and punch.
The movie was shot in Paris, New York and Hamburg, Germany. "We tried to make it all look like one big place," Wenders says. The visual scheme was based on Edward Hopper's paintings. But cinematographer Robby Muller often employed sickly yellow-greenish florescent lights for interior shots, heightening the sense of paranoia. (The deleted scenes include more of Muller's stunning shots of the Hamburg harbor.)
Fans of rock music should enjoy the show. The late folk rocker David Blue plays an art dealer. Wenders changed the name of the naive hero to Zimmerman, perhaps inspiring Hopper to break into a couple of Bob Dylan songs. Hopper's Ripley talks of bringing the Beatles back to Hamburg, and early on sings a few lines from "Easy Rider's" most dramatic song. Ganz's character digs the Kinks.
Nicholas Ray, who played a famous painter pretending to be dead, already was sick with the cancer that would kill him. Nonetheless, the once-elegant director "was always at the top of his game — or pretending to be," Wenders says.
The German director had found Ray in dire straits, hurting for money. Wanting to help, he wrote in Ray's part, drawing on material from another Ripley novel. "Dennis and Nicholas loved to play their scenes together," Wenders says.
A few years later, as the cancer closed in on Ray, he told his friend Wenders that his one desire was to make another movie. It would be "Lightning Over Water."
The concept was to continue the story of Ray's painter in "Friend." Ray and Wenders would switch off directing. But as Ray's health deteriorated, "Lightning" turned into a documentary about Ray's last days. The mission was to keep Ray busy and help him face death.
"I never went through anything remotely like it," Wenders says. "And I don't think there is another film like it." (The 1980 "Lightning Over Water" also was released on DVD by Anchor Bay. It's too bad Criterion couldn't find room for it on the "Friend" Blu-ray.)
"The American Friend" is in German, English and French with the usual crisp and clear Criterion subtitles. The audio comes in DTS-HD Master Audio 5.1. Images are at 1.66:1.