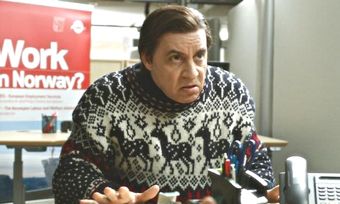 "Lilyhammer" snuck onto the Netflix streaming video service like a crook in the night. No rah-rah, no in-your-face promos, not even a listing as "new on TV."
Subscribers who haven't read about the Steven Van Zandt fish-out-of-water series probably still don't know it's there. Those who sought out the show often did so by doing an onscreen text search. Is that one "L" or two?
Is this any way to launch a TV series? Or, rather, a streaming video TV series?
Maybe. Doing an end-around on Hollywood bullshit is part of the pleasure of subscribing to Netflix's streaming content.
There's a bit of a subversive thrill in seeing the words "Netflix original series" pop up as "Lilyhammer's" first episode unfurls.
The series even skips the anticipatory rollout. All eight episodes went up at once, in a single digital dump. "If you love the first episode, there is no need to wait until next week, or to set a DVR, to catch the next one," Netflix's content guru explains.
Here's hoping subscribers do catch more than the first one. "Lilyhammer" starts out like a one-trick pony — not bad; far from great — but displays some delightful new steps throughout its eight-episode journey.
The "Netflix original series" tag isn't entirely accurate. The series comes from Norway, where a husband-and-wife team of TV producers pitched visiting musician Van Zandt, who thought the idea was weird enough to work. "Lilyhammer" already has already aired there and was a local hit. Netflix helped pay for the production and is listed as the U.S. distributor.
"Lilyhammer" is a deliberate misspelling of Lillehammer, the dinky town whose global fame started and ended with the Winter Olympics of 1994.
One of the Olympics viewers wowed by the area's beauty was Frankie Tagliano (Van Zandt), a New York mobster whose expiration date is nigh as the series begins. Out of self preservation, the gangster rats out his evil new boss and enters the federal witness protection program — with one condition: A new life in Lillehammer.
We're soon in "Northern Exposure" territory, with quirky locals who come bearing the essential elements of dramedy. The Norwegians speak mostly in their native tongue (subtitled), which the immigrant mobster understands but can't speak fluently, so he sticks to English.
Netflix, which already houses the U.S.'s biggest assortment of Nordic noir and fantasy movies, was OK with the unusual subtitle arrangement, to star/co-producer/co-writer Van Zandt's amazement.
The immigrant gangster in "Lilyhammer" brings to mind Van Zandt's character in "The Sopranos"
of course, but this is no spinoff or knockoff of that HBO classic. The violence in "Lilyhammer" is mostly a matter of fisticuffs. Cross-cultural harmony is about as big as the ideas get.
Van Zandt shrugs, mugs and doesn't overreach, letting the talented cast of Norwegian actors provide most of the fun. One of the best performances — an Elvis-impersonating cop — comes from Kyrre Hellumm, the local version of Steve Buscemi.
A scene from the first episode lays out the template. Newcomer Frankie is walking in the snow when he comes upon a sheep's head that fell from a neighbor's grocery sack. Ohhh, says Frankie, "I thought I was going to have to give Johnny Fontane a movie part."
Not surprisingly, the series has great music — a mix of Scandinavian rock and local covers of American classics. (Norwegian death metal doesn't get its due, unfortunately.) Van Zandt sings a song, but never touches a guitar.
Season 1 ends on an atypical note of melancholy, more or less confirming the existence of a season 2. Skol!
Glenn Abel on Google+