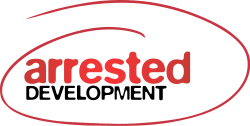 Critics and cultists loved the series, but Nielsen families proclaimed it a dud. Now, five years after cancellation, "Arrested Development" returns to production, with all new shows exclusive to Netflix streaming video.
The first new episodes will stream in the first half of 2013, Fox and Netflix said.
"After bringing back two canceled series — 'Family Guy' and 'Futurama' — to enormous success, we are bullish on the prospects for this brilliant series," Twentieth Century Fox TV execs press-released.
The series follows the misadventures of a once-wealthy and always-eccentric Southern California family. Stars include Justin Bateman, Michael Cera, Portia de Rossi, Jessica Walter and Jeffrey Tambor.
The series' narrator is Ron Howard, whose Imagine TV co-produces the show with Fox. "After a long hiatus, I'm dying to finally get back to the narrator's microphone," Howard said. "Everyone, ourselves included, seems to feel like the Bluths left the party a bit too soon. … It's (truly) arrested … development."
Netflix chieftain Reed Hastings has said he's often asked to rescue cancelled shows, notably Fox's "Firefly," victim of a premature burial by program execs. Netflix recently picked up an adaptation of the British political drama "House of Cards," with Kevin Spacey in the Ian Richardson role.
News of the Netflix "Arrested Development" exclusive came after the stock market's closing bell Friday, but no doubt some investors will be cheered by the beleaguered company's further adventures in original programming.
The move also suggests that Netflix might see its future in the streaming video world in creating an HBO-like "channel." Hastings often has said he sees HBO originals as Netflix's "holy grail."
Netflix content chief Ted Sarandos said: "It's also a perfect example of how broad and successful our relationship has become with Fox as we work together with their film, television, international and digital divisions on several exciting initiatives."
The ensemble comedy ran through the 2003-2006 TV seasons. Its final broadcast came on Feb. 10, 2006. The series' stars confirmed recently that a movie was in the works, with any new TV episodes serving as a run-up.
The show attracted an impressive list of name guest stars, including Liza Minnelli, Amy Poehler, Ben Stiller, Charlize Theron, Scott Baio, Julia Louis-Dreyfus, Henry Winkler and Carl Weathers.
Meanwhile, Netflix announced a deal with Miramax for the United Kingdom. That service is set to debut in early 2012.