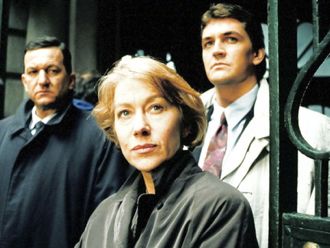 Maria Bello is a fine actress and all, but NBC's remake of "Prime Suspect" has a lot going against it.
First and foremost, the new "Prime Suspect" soon will be drowning in comparisons to the British source material — arguably the smartest, best-written and best-acted cop series on any continent. The series spread out across 15 years, with the 22 hours of superb TV concluding in 2006.
Then there's the shadow of Helen Mirren, who played her greatest character in the original series: police detective Jane Tennison.
"Definitely nervous to even think about taking over for Helen Mirren," Bello told Entertainment Weekly. "C'mon! How could anyone compete with her? Didn't she do about 10 of them and win an Emmy every time?"
Well, Mirren did seven "Prime Suspect" telefilms and won BAFTA TV awards almost every time. As for Emmys, Mirren won in 1995 ("Prime Suspect 4: Scent of Darkness") and 2007 ("The Final Act"). The actress received four Emmy noms in other years.
"Prime Suspect's" footprints could be found on the U.S. series "The Closer" as well — actress Kyra Sedgwick acknowledged the debt to Mirren/Tennison many times.
With the roll-up to the NBC show's Sept. 22 premiere, British TV specialist Acorn Media has released separate DVDs of the first two "Prime Suspect" series, which date back to 1991 and 1992.
(Update: The NBC "Prime Suspect" feels hurried and Americanized, but all in all it's watchable. The first and second episodes had numerous elements from the original and one truncated plot that, incredibly, removed the key twist. The Belo show reminded me of the U.S. remake of "Life on Mars" — not bad, but ultimately another formula product of the U.S. primetime machine. You can catch the Belo show on Hulu.)
Unfortunately, the new "Prime Suspect" DVDs are nearly identical to those found in Acorn's "Prime Suspect" box set of fall 2010. And they're basically the same as the HBO DVDs of 2004. That means no extras (a few are in the box set) and no improvements in audio or video. This means they are best in market, acceptable.
(Update 2: Acorn has set a Blu-ray release date of Aug. 27, 2013, for a seven-disc set of the original "Prime Suspect.")
Here's hoping the publicity and new DVDs help more viewers find the original "Prime Suspect."
(More about the A/V: The same instances of wear and damage can be found on the HBO and Acorn DVDs. And though the old HBO sets used multiple discs, the audio and video appeared no better than the Acorn single-disc offerings in a recent A/B test.)
Of course, a pair of 20-year-old telefilms from Britain's indie ITV can't be expected to shine, but no doubt it's time for a good scrubbing on the entire series.
The NBC makeover brings to mind the ABC copy-cat version of "Life on Mars," another tremendous British cop show, but with a sci-fi twist. To be fair, the U.S. version of "Mars" had its moments (Harvey Keitel played a key role), but in the final estimation the single-season ABC series proved a watery imitation. (Acorn distributes the breathtaking U.K. "Life on Mars" as well.)
Unlike the slick but detailed police procedurals that rule the U.S. airwaves, "Prime Suspect" made no overt concessions to show business — or its audience. These stories are all rough rides, told with an aesthetic that feels more like indie film than network TV.
"Prime Suspect, Series 1" introduces us to Jane Tennison, a newly reassigned "murder squad" detective. Her superior DCI suffers a fatal heart attack. Tennison points out to the top cop that she's been "overstepped, side-stepped and whatever" — demanding the DCI job for herself.
And so DCI Tennison and her squad-room full of minimally cooperative male detectives go to work on a grisly murder-rape case. "Don't call me mum," she warns the lads, repeatedly. Meanwhile, Tennison's personal life collapses as the investigation becomes a 24-hour-a-day obsession. No wonder she drinks and chain smokes.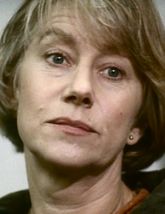 As with most of the series, the titular prime suspect is identified early — and may or not be guilty. This time out, he's a likable middle-aged lad with a talent for the ladies and an alibi that seems to get better with time. He's either villain or victim.
The "Prime Suspect" series' record of casting outstanding young actors begins here, with Ralph Fiennes as a volatile boyfriend of a dead woman.
"Prime Suspect, Series 2" catches Tennison in an error of judgment (not the first or last). She's bedded a handsome detective of color in what was to be a one-off at a law enforcement seminar.
Later and suddenly, the black cop is assigned to Tennison's unit, to her chagrin. He's there to help out with an investigation that began with the discovery of a young woman's corpse — entombed under concrete in an Afro-Caribbean neighborhood.
The elderly white prime suspect offers a deathbed confession, with Tennison managing to hold his hand to coax out the detail, but things still don't quite add up. …
Dame Mirren — widely considered the best actress in the business — created her "Prime Suspect" role from scratch. In the early 1990s, she was known for offbeat film roles.
There was "a great fear in the television company" about launching a crime show with a lead female character, Mirren recalls in the DVD box set's docu featurette.
The early shows dealt with Tennison fighting for respect in the male-dominated world of law enforcement. By "The Final Act," her sex is no longer an issue — instead, it's her raging alcoholism.
The series' attention to detail almost always feels spot on. In the era when the show began, creator Linda Lynda La Plante says, "it was a fantasy world the (TV) police dramas operated in. Now they really drive to get all the details of the police station right." (Another innovator and apparent influence, "Hill Street Blues," debuted in 1981.)
La Plante is listed as an executive producer on the NBC stab at "Prime Suspect," probably an honorarium.
The ITV "Prime Suspect" was an actors show, with Mirren herself signing off on casting and scripts. Her Tennison remained a flawed heroine whose personality would alternate between blood-drainingly severe and awkwardly compassionate. Butch or sexy — or both. At times, she played an emotional dunce, with maddening results. Still, Tennison was 100% human and heroine.
"Prime Suspect" was always a specialty item in the States (airing on PBS' "Mobil Masterpiece Theatre"), but still it would be great to see someone invest in a proper box set. Right, mum?
SPOILER ALERT (for the new DVDs) on this making-of video.
More British TV:
Check out Glenn Abel on Google+