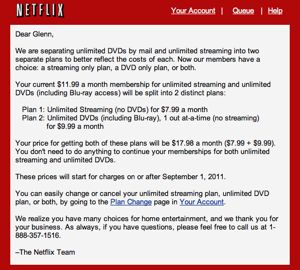 Netflix has announced a stinging price increase, with the majority of subscribers about to see their bills go up by as much as $6 a month.
Someone paying $11.99 a month for streaming and DVDs/Blu-rays will now fork over $17.99.
The Netflix corporate line goes something like this:
The costs of mail-rental DVDs and Blu-rays were never reflected in the DVD/streaming packages that expire Sept. 1. Customers now have their choice of DVDs/BRs only, streaming video only, or both. And "both" will cost a lot more.
Netflix customers, at least those willing to post on Twitter (#dearnetflix) and the Netflix blog, are fuming, with a good third of them threatening to cancel or cut back. Longtime subscribers seem particularly incensed by the move, which comes with a month and a half notice.
One customer posted in response: "I have had my account more than a decade and I must confess I feel very much taken for granted right now."
Netflix says the good news is the DVD-only plan comes with our "lowest prices ever."
Here's the (mostly) bad news:
No more "unlimited" streaming and DVDs by mail.
To replicate their current streaming and DVD packages, customers will pay $15.99 (no Blu-rays) or $17.99 (with Blu-rays).
Unlimited streaming goes for $7.99 a month.
Unlimited DVDs (one at a time) goes for $7.99 a month.
Unlimited DVDs (two at a time) at $11.99 a month.
No wonder Netflix boss Reed Hastings has been so sanguine when asked about the looming leaps in its programming costs.
"So instead of $10 we get $16 a month with no improvement in service," a user commented on the Netflix blog post. "All whining aside, a 60% price bump in this economy is pretty steep."
Suddenly, cutting the chord has a new meaning at Netflix as customers pondered their choices, including jettisoning DVDs or the Watch Instantly streaming video. Even Netflix said so, with a curiously worded take-it-or-leave-it final paragraph on its blog: "As always, our members can easily choose to change or cancel their unlimited streaming plan, unlimited DVD plan, or both."
One commenter responded: "At the very least, we'll be going to streaming only after this epic failure of a decision."
Complaints about the quality of the streaming service were among the top user threads on the blog. Not without cause — the catalog seems to have stagnated in recent months, unless you're a fan of Korean crime thrillers.
"The only way this will make anyone happy is if this translates to newer and more content in the streaming catalog," another commenter wrote.
Comments about the price increase topped 5,000 by the end of announcement day, most of them complaints. A few defended the increase as inevitable given the soaring prices for Hollywood content as the movie and TV businesses wake up to the potential of online video streaming.
Another curious element in the new pricing: Blu-rays continue to cost an additional $2 per month, even though they are now the home video standard. DVDs are circling the drain and street retail reflects that.
Side note: It'll be interesting to see if Netflix does a Hulu and deletes all of the negative comments on its blog (see news of the Criterion label switch).