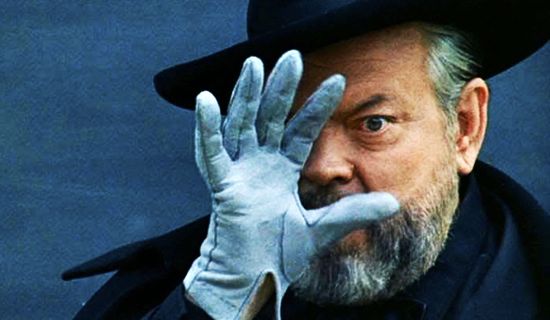 File "F for Fake" under truth in advertising. After all, this is not a real Orson Welles movie — at least not in the sense of "Touch of Evil," or even "The Magnificent Ambersons."
Welles took an unfinished documentary shot by someone else, tacked on some hocus-pocus at the beginning and end, mixed in spicy footage of his mistress and called it his latest movie.
A scam perpetrated by an aging director no longer able to realize his own projects? Maybe so. The revenge of an artist tormented by critics? Almost certainly.
And since the 1973 movie turned out to be a head-spinning piece of modern video art — a work clearly ahead of its time — does the self-proclaimed charlatan who put it together deserve the credit? In the end, only the film remains, so … does it really matter how it was created?
Welcome to the philosophical fun house that is "F for Fake," stuffed full of questions about the nature of art and authorship, illusion and reality, lies and truth.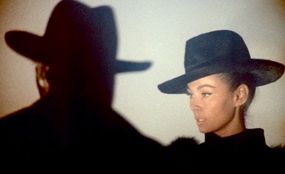 "Everything in this film is strictly based on the available facts," a Big Brother-like intertitle assures the gullible. View the movie as one of the director's great works — or just another Wellesian goof.
Criterion brings "Orson Welles's F for Fake" to Blu-ray in a typically generous single-disc set. Image quality varies, from the crisp scenes of narrator Welles wandering around in his cape to the grainy docu segments and 16mm clips. (Most of the film is in color, unusual for Welles). The feature unspools with an aspect ratio of 1.66:1. The Blu-ray's mono signal audio gives Welles' voice a dramatic soundstage.
The Blu-ray's "supplements" (all at least a decade old) kick off with a 6-minute introduction by Welles' pal Peter Bogdonovich, who provides much-needed orientation. He says Welles was on to something new for the time, the documentary as personal essay.
"It's sort of like visual music," Bogdonovich says of the movie's dizzying quick-cut editing and narrative quantum leaps. "If you get on the film's wavelength … it's riveting. If you fight it and expect it to be a linear thing, then you're not going to enjoy it."
It certainly helps if you're familiar with one of the movie's main subjects, Clifford Irving, whom Time magazine once dubbed "con man of the year."
Irving claimed to have authored an autobiography of Howard Hughes, never expecting that the famous recluse — or at least his voice — would come out of hiding to expose the lie. The Irving-Hughes circus became one of the biggest stories of the 1970s, unfolding day-by-day as Welles made this film.
Bogdonovich says Welles was counting on the infamy of the Irving case to boost his film's commercial prospects. It didn't happen. The film mostly played film festivals in North America, but landed some distribution in Europe. Bogdonovich tells how one distribution bigwig dozed off while watching a pitch screening, then made an insulting lowball offer for the film.
In 2005, Criterion's DVD of "F for Fake" was seen as a major revival for the rarely seen work. (The 2014 Blu-ray has identical extra features.)
Clifford Irving learned his tricks at the feet of the brilliant art forgerer Elmyr de Hory, whose story takes up much of "F for Fake." The de Hory footage came from French documentary maker Francois Reichenbach, who gladly handed it over to the director of "Citizen Kane."
Welles, of course, was uniquely qualified to handle the intertwined stories of conmen de Hory and Irving, having perpetrated one of the century's great hoaxes, the radio broadcast of "War of the Worlds."
"We hanky-panky men have always been with you," Welles says, confiding in his audience.
Oja Kodar, the director's mistress and co-writer of "Fake," says the film is "not just about fakery, it's about Orson." Cameraman Gary Graver, who shares the DVD commentary with Kodar, says "Fake" is "as close as you'll get to the real Welles."
"Orson was really wounded by the critics," Graver says, explaining the film's repeated attacks on "experts" in the fine-art field.
Initially confusing, and loaded with detours and codicils, "F for Fake" doesn't bare its charms to most first-time viewers. It's a natural for repeat viewing — and for consumption in the digital era.
Jonathan Rosenbaum points out in his printed essay for Criterion that with the "rewind and stop-frame capacities of video the sheer effrontery of many of Welles' more important tricks can be recognized, making this film more home-video friendly than any of his others."
Included as an extra feature on Criterion's Blu-ray is the 9-minute trailer for "F for Fake," more short film than ad; it was built around new footage shot by Welles. Graver says the trailer was similar in spirit to the famous preview for "Citizen Kane," which merrily concealed the film's dark tone. The "Fake" trailer's absurd length and nude shots of Kodar ensured it wouldn't be seen in U.S. theaters.
The 1995 docu "Orson Welles: The One Man Band" spends an hour and a half profiling the director in his final years. It's shot in the style of "F for Fake" and produced by Kodar, who appears throughout.
The docu, in English and German, follows Welles around the globe as he attempts to finish his many projects, all rejected by Hollywood and its financiers.
"In Los Angeles, everyone only talks about 'crazy old Welles.' … I must start over from scratch," the onetime prodigy sighed.
The docu shows extended clips from the director's aborted projects, among them "The Merchant of Venice," the thriller "The Deep" and the wrapped but unedited "The Other Side of the Wind." Most look like decent but unreleasable student films. There are broad comedy bits starring the old man, some of them kind of funny.
Irving has his say in a "60 Minutes 2" interview broadcast in 2000. It reunites him with CBS reporter Mike Wallace, to whom he lied like a dog on a 1972 segment of "60 Minutes." They seem like pals.
The documentary "Almost True," from 1997, takes a straightforward look at the life and antics of forgerer de Hory. Informative, but a stiff compared with "Fake."
The Blu-ray wraps with an audio record of Howard Hughes' press conference on Irving's hoax, in which reporters gathered around a speakerphone to hear the tycoon's ghostly voice reveal its truths.