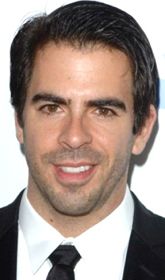 Netflix is bunking with horror filmmaker Eli Roth as he makes his major TV series debut with "Hemlock Grove."
Roth ("Hostel") said his hookup with Netflix's streaming video service "is like telling a story in a new medium." The director-producer, left, cited the "creative freedom to go as dark as the story needs" in the 13-episode series, which begins in early 2013.
Meanwhile, Netflix's latest rescue effort could be "The River," another youth-friendly spooky series from ABC. Deadline Hollywood reports that the streaming video provider is in talks with ABC Studios to continue the series, which just concluded a midseason run to so-so numbers. The New York Times panned "The River" as "deadly serious and profoundly silly."
Netflix has been in talks with Fox TV about continuing the prehistoric time-travel adventure "Terra Nova."
"Hemlock Grove" is an adaptation of the Brian McGreevy novel. It tells of mysterious and evil doings in the shadow of an old steel mill and a new biotech facility. "Unspeakable truths" emerge.
Your good-looking young stars are Famke Janssen ("X-Men") and Swedish actor Bill Skarsgard, right.
Netflix content chieftain Ted Sarandos called the project "a sly blend of J.D. Salinger and Mary Shelley" with "stunning visuals."
The series is produced by produced by France's Gaumont International Television.
Roth and Eric Newman are among the executive producers via their Arcade production company, which seeks to create "elevated genre projects." It was no clear how many episodes, if any, would be directed by Roth. (Roth executive-produced an animated TV series, "Chowdaheads," in 1999.)

"Hemlock Grove" is executive produced and written by McGreevy, author of the FSG Originals novel, and partner Lee Shipman. Also executive producing are Eric Newman ("Dawn of the Dead," "Children of Men"), Michael Connolly ("How to Train Your Dragon") and Mark Verheiden ("Battlestar Gallactica").
Netflix has made aggressive moves into original TV series and episodes as its feature film catalog has been limited by increasing rights costs. CEO Reed Hastings is an unabashed fan of the HBO original programming model. The streaming video service recently debuted "Lilyhammer" in the United States.