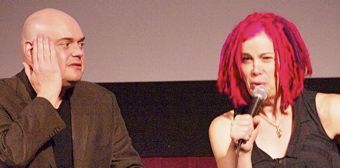 Netflix has snagged the Wachowski duo for the original series "Sense8," billed as "a gripping global tale of minds linked and souls hunted."
The techno-thriller debuts exclusively on Netflix in "late 2014." It tells of a group of psychically linked people who are being hunted by the powers that be.
The Wachowskis, famed for "The Matrix" trilogy, are working with "Babylon 5" veteran Joe Straczynski.
The announcement comes on the heels of Netflix's success with the Kevin Spacey political series "House of Cards," based on the British show of the same name.
The Wachowskis — Andy and Lana, pictured — also created "V for Vendetta" and "Speed Racer." (The siblings were formerly known as the Wachowski brothers, but … it's a long story.) They're going into production on the film "Jupiter Ascending," starring Channing Tatum, for Warner Bros.
"We've wanted to work with Joe Straczynski for years, chiefly due to the fact his name is harder to pronounce than ours," the Wachowskis press-released. "Several years ago, we had a late-night conversation about the ways technology simultaneously unites and divides us, and out of that paradox "Sense8″ was born."
Straczynski said: "Lana, Andy, and I are fans of each other's creations, and have been looking for something to do together for nearly a decade."
The veteran TV series writer and manager, makes his feature directorial debut in 2014 with "The Flickering Light," a story about gypsies in a concentration camp. Straczynski wrote the film "Underworld: Awakening," the fourth film in that fading series, and the domestic mystery "Changeling," directed by Clint Eastwood.
Longtime film and television producer Marc Rosen is executive producing "Sense8" via his Georgeville Television company.
Netflix content czar Ted Sarandos said the "incredible creations" of the trio are favorites of Netflix subscribers.