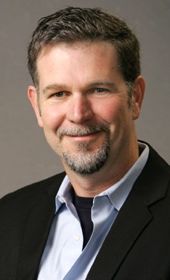 The number of Netflix subscribers hit 23.6 million in the first quarter, but warnings of higher costs in Q2 led Wall Street to punish the streaming media company.
Netflix stock ended Tuesday down 9 percent, partly on earnings and partly on a downgrade from an analyst.
Netflix chieftain Reed Hastings appeared on CNBC's two morning shows early Tuesday, as the crawl confirmed that his stock was taking a beating in pre-trading. Hastings told CNBC (from his headquarters) that he wasn't focused on pleasing analysts, but on subscriber growth and content acquisition.
Netflix expects spending on streaming content to "increase substantially."
"The key is that if our revenue is galloping ahead of our content costs, that we continue to grow our profitability," Hastings said.
The company's warnings came in its first quarter earnings report released after the bell Monday. It projected that second-half international operating losses would be greater than anticipated.
Earnings per share in the first quarter were $1.11, topping expectations of $1.08. Revenues also outpaced projections.
Netflix said 3.3 million new domestic users were added in the first quarter, twice the growth rate of 2010's Q1. The company said it would continue to outpace 2010's subscriber growth quarter-to-quarter, but that the big leap of Q1 likely won't be repeated.
The investor's letter spent numerous paragraphs stressing that Netflix streaming video was a good neighbor to MVPDs (multichannel video programming distributors such as cable and satellite TV) and a profitable partner for Hollywood's program creators.
"Our subscribers overwhelmingly enjoy both their Netflix and the variety of sports, current season TV shows, news and entertainment available through MVPDs," the letter to shareholders said.
Netflix said that a traditional broadcast exec's knock on the company's Watch Instantly streaming service as "rerun TV" was "fundamentally correct." The streaming of past seasons (such as newly acquired "Glee" and "Mad Men") helps promote traditional TV offerings, Netflix argued, and, "We hope that over time HBO and Showtime will let us prove this proposition for them."
Hastings told CNBC: "People often want us to say we're competing with HBO, but we compete about like baseball competes with football. We have none of the same content that HBO does. Sure, we compete for time a little bit. We compete for money. But most of the people who subscribe to HBO, subscribe to Netflix."
Of the various competitors — or perceived competitors — that have been popping up in the past few months, Hastings said Netflix would respond with "more and more content" and a superior user experience.
"We're using personalization to really help consumers figure out what's the content they would like most. So, it's differentiated in the (user interface). Differentiated in the content."
The L.A. Times surveyed Netflix's competitive landscape the other day and noted that, "So far, none of the company's potential competitors has started writing the nine-figure checks necessary to secure a library of movies and TV shows to rival Netflix's."
The Times continued: "Observers believe that once Netflix surpasses 30 million subscribers — a goal that analysts say the company could achieve as soon as 2012 — it may become difficult to unseat the Los Gatos company." (Netflix's investor letter said the 30 million mark may be hit in 2011.)
Hastings told CNBC viewers that while DVD rentals via mail remain a key contributor, "Our main focus is on streaming, streaming, streaming, because consumers just love Netflix streaming."