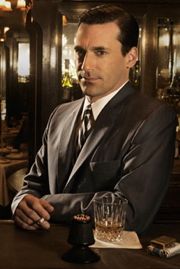 AMC's retro-hip hit "Mad Men" will start streaming via Netflix as of midsummer.
Lionsgate and Netflix cut a multiyear deal for the Emmy-winning series under which the first four seasons will start streaming on the Watch Instantly service as of July 27, with subsequent seasons to follow.
Netflix dubbed it an "exclusive syndication deal," but didn't elaborate on what that did and didn't cover. Lionsgate indicated it was still putting together its "transactional digital plans."
Last week, Lionsgate finally reached a new agreement with "Mad Men" creator Matthew Weiner for seasons 5 and 6 with the expectation of a seventh season as well.
The cast has been signed for at least two more seasons, including star Jon Hamm (Don Draper), pictured. Weiner expects the seventh year to be final outing for "Mad Men."
Weiner agreed to trim the series by several minutes for AMC showings, but reportedly has an option to submit longer versions for other media such as DVDs and online video. Presumably those slightly longer episodes will be the ones offered by Watch Instantly.
As part of the "Mad Men" wranglings at AMC, the show's fifth season premiere won't debut on cable for more than a year.
Seasons 1-4 of "Mad Men" already are available on Blu-rays and DVDs.
Lionsgate said the Netflix deal "underscores the tremendous value of producing and owning content in a digital world, where demand for content continues to grow and pathways for reaching consumers continue to diversify."
"Mad Men has been and continues to be a representation of TV at its best and Netflix is proud to be the syndication home for this acclaimed series," said Ted Sarandos, content czar at Netflix.
"Mad Men" already streams from Netflix Canada under a separate arrangement.
The drama about the Manhattan advertising industry of the 1960s has won more than a dozen Emmys. While critically acclaimed, the series is expensive and lags in ad revenues, the Hollywood Reporter noted. In any case, "Mad Men" put AMC on the original programming map with its high-profile debut in 2007.
Netflix's programming offerings have been in play for months, with developments both positive and negative.
The mail-order giant recently nabbed streaming rights to the first season of "Glee" and paid big for the original political drama series "House of Cards."
On the down side, Showtime and Starz will begin delaying debuts of some of its programming on Netflix for 90 days. The Criterion Collection moved its art-house catalog to rival Hulu, saying it was unhappy with the branding and presentation on Netflix.
Meanwhile, Netflix chief Reed Hastings did an extended interview with Business Insider (SAI). A sample:
We want to focus on a simple proposition: unlimited streaming for $7.99 per month. Our big focus is taking that simple proposition around the globe. We started with Canada seven months ago, we've been super successful there, we're targeting to surpass 1 million subscribers this summer. Less than one year from launch in Canada. That's been so successful that we're now expanding to other countries.