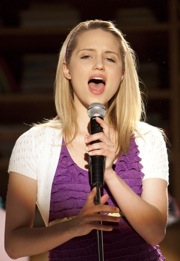 Netflix's streaming video programming wheel continues to spin, with "Glee."
Twentieth Century Fox and Netflix announced April 1 that their programming deal now includes the first season of Fox's "Glee" as well as the first two seasons of FX's "Sons of Anarchy." They will run on the Watch Instantly streaming video service, free of additional cost to most Netflix subscribers.
"Glee" season 1 spanned from September 2009 through July 2010. The song-and-dance teen series is heading into its third season as Fox's top show.
The motorcycle gang series "Sons of Anarchy" is going into its fourth season. The first two program cycles began in September 2008 and 2009. It is FX's most highly ranked series.
The streaming video pacts also deals "The Wonder Years," "Ally McBeal" and other catalog fare to Netflix's Watch Instantly service.
Fox shows already streaming on Netflix include "Lie to Me," "24," "Prison Break," "Arrested Development," "Buffy The Vampire Slayer" and "The X-Files"
"Our members love TV shows, and making such pop-culture hits like 'Glee' and 'Sons of Anarchy' available to watch instantly reinforces our commitment to provide them a wider selection of programs," said Ted Sarandos, Netflix's content guru.
Fox noted that the deal "maintains Fox's flexibility to effectively manage both the content we offer, and the appropriate window of availability relative to our other distribution partnerships." Windows of availability refers to how soon the content is available after its initial run, an increasingly hot issue with TV distributors and Hollywood's major studios.
Showtime and Starz just opened the window for some of its programs on Netflix to 90 days, having previously pacted for morning-after rights. Netflix told CNBC that the loss wasn't a big one for its Watch Instantly subscribers, who tend to cherry pick programming across decades.
In other Netflix programming developments:
Netflix this week reached a deal with Paramount Pictures for Canadian streaming rights to a few recent movies such as "Iron Man 2" and "The Last Airbender," but mostly the pact covers catalog titles like "Titanic" and "Wayne's World."
Netflix reportedly is nearing a streaming media deal for Miramax films, which would be seen on Netflix's Watch Instantly service.
Netflix also confirmed late last month that it was getting first-run rights to the original political drama series "House of Cards."