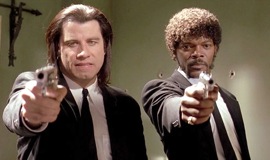 Netflix reportedly is nearing a deal for Miramax films, which would unspool on the Watch Instantly streaming media service.
More than 700 films would be covered under the five-year pact, likely the entire Miramax catalog, the Wall Street Journal said. The deal was valued at $100 million.
Netflix had no comment, but did not deny the report.
Netflix recently lost rights to films from the high-end DVD label Criterion Collection, which strayed to Hulu Premium in search of better branding and packaging for its extensive catalog.
The mini-major studio Miramax is known for its independent films, some of which found mainstream success — such as "The Queen," "Pulp Fiction," "No Country for Old Men" and "Shakespeare in Love." A group of investors recently bought the film studio from the Walt Disney Co. and is hot to get the revenues flowing, the Journal reported March 25.
A week ago, Netflix confirmed that it was getting into the original content business, by bankrolling the U.S. TV adaptation of "House of Cards," starring Kevin Spacey.
Showtime and Starz (CBS) said they were delaying release of their content to Netflix by a month, opposed to the morning after broadcast under the current deal.
Some Criterion films continue to be available on Watch Instantly, but will be gone before the end of the year, much to the dismay of Netflix subscribers.
Miramax's catalog, stuffed with Oscar winners, stretches back to 1979. The Criterion Collection restores and packages films from the silent era to modern-day, and is known for its high-end extra features on its Blu-rays and DVDs.