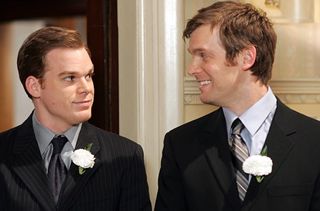 HBO hit series such as "The Sopranos," "Six Feet Under" and "The Wire" are on their way to Amazon Prime, in an exclusive online deal.
The series are mostly past their prime, but early seasons of "Boardwalk Empire" and "True Blood" are part of the package.
Amazon and HBO said "Girls," "The Newsroom" and "Veep" will be available under the multiyear agreement, with availability roughly three years after their debuts on HBO.
Content begins flowing May 21.
While the deal is billed as exclusive to online outlets, HBO GO continues the premium cabler's own streaming service, with "every episode" of HBO series available to its cable subscribers. The new Amazon "Fire TV" will carry the HBO Go service near year's end.
"This is the first time that HBO programming has been licensed to an online-only subscription streaming service," Amazon press-released April 23. "This programming will remain on all HBO platforms."
Other series that are part of the deal include "Big Love," "Deadwood," "Eastbound & Down," "Family Tree," "Enlightened" and "Treme." Miniseries include "Angels in America," "Band of Brothers," "John Adams," "The Pacific" and "Parade's End."
Notably MIA are "Sex and the City" and "Curb Your Enthusiasm."
The deal couldn't come as good news to Netflix's Reed Hastings, who has never been cheap with his praise of the HBO content model. Netflix stock, red hot in 2013, has been ice cold in 2014. It said earlier this week that it was raising prices for new customers, partly to fund new content such as "House of Cards."
The deal no doubt will cheer Amazon Prime subscribers, who've just been hit with a $20 a year price increase. The HBO deal was announced a day before Amazon's earnings release.
More content under the deal, most of it long in the tooth, includes the documentaries "Autopsy" and "Iceman" (series), "Ghosts of Abu Ghraib" and "When the Levees Broke." And comedy specials from Lewis Black, Ellen DeGeneres, Louis CK and Bill Maher.
"HBO original content is some of the most-popular across Amazon Instant Video — our customers love watching these shows," said said Brad Beale, Director of Content Acquisition for Amazon, referring to the in-house PPV service. "Now Prime members can enjoy a collection of great HBO shows on an unlimited basis, at no additional cost to their Prime membership."
HBO said it "believed the exposure will create new HBO subscribers."