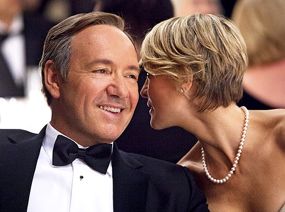 Here's some love from Netflix: "House of Cards" returns Valentine's Day.
The second season of the David Fincher series returns with stars Kevin Spacey and Robin Wright, both nominated for Emmys for their work on the Netflix original. (Neither won.)
The series, based on the BBC black comedy of the same name, also garnered an Emmy nom as best drama series and then a half dozen Golden Globe mentions in mid-December.
"House of Cards" is widely credited with putting Netflix in the big leagues of high-quality TV programming. (And for reviving Netflix's stock.)
All 13 episodes are going up at minute 1 of Feb. 14, a binge-watching invitation that should have Netflix's servers working as hard as they did with the highly hyped return of "Arrested Development."
Here's an artsy promo starring Wright, no spoilers in sight: (text continues)
And here's Netflix's long-winded set-up for season 2:
Francis and Claire Underwood continue their ruthless rise to power as threats mount on all fronts. Zoe Barnes (Kate Mara), an up-and-coming reporter and Francis' former paramour, is inching closer to the truth about his crimes. President Walker's (Michel Gill) billionaire confidant Raymond Tusk (Gerald McRaney) demands that Francis reciprocate political favors or face retribution. And Claire must confront the increasing glare of the spotlight as it eats away at her and Francis' once private existence. The Underwoods must overcome these dangers — past and present — to avoid losing everything, regardless of collateral damage they leave in their wake.
"House of Cards" season 2 comes two months after the sort-of-long-awaited return of Steven Van Zandt's expat comedy "Lilyhammer."
The second season of "Lilyhammer" finds the "the baddest gangster in Brooklyn" still hiding in Norway even though his cover looks blown. Meanwhile, he's keeping busy with his pair of homegrown babies.
Here's a mini-spoiler … The first episode kicks off with a tasty homage to "The Godfather." (The season already has aired in Norway.)
Here's your video preview:

Can't wait? Here's episode 1 of "Lilyhammer" season 2.
Younger viewers, no binge for you. Kids will need a bit of patience to see DreamWorks' "Turbo FAST" series, which debuts Dec. 24, but only with five episodes. The rest of the season will bow "throughout the year," Netflix says.
The animated series from DreamWorks is the first Netflix original for children, but it'll be followed soon enough by live-action series from Marvel. The adventures of Daredevil, Jessica Jones, Iron Fist and Luke Cage are to be unveiled in 2015, with content unfolding "over multiple years of original programming."
The action will conclude with a Marvel miniseries.
"This serialized epic expands the narrative possibilities of on-demand television and gives fans the flexibility to immerse themselves how and when they want in what's sure to be a thrilling and engaging adventure," said Marvel chieftain Alan Fine.
The Marvel live-action follows last year's exclusive online subscription deal with owner Walt Disney Studios.
Netflix unveiled a badly needed redesign of its menus for home video devices last month. Getting the new look are owners of PlayStation 3, PlayStation 4, Xbox 360, Roku 3 and "newer" Blu-ray players. Here's a video preview: