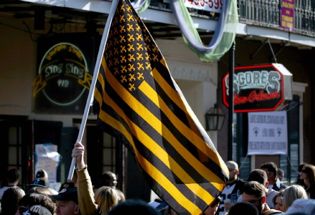 Spike Lee began filming his second New Orleans documentary on the day of the 2010 Super Bowl, with cameras rolling in Miami and New Orleans.
They were shooting "because we knew the Saints were gonna win," Lee recalls. After capturing the wild celebration following the city's first Super Bowl win, "We thought we had the (documentary's) ending … but BP thought otherwise."
Lee's first New Orleans documentary for HBO, "When the Levees Broke: A Requiem In Four Acts" (2006), examined the immediate deadly consequences of a historic natural disaster.
Five years later, Lee returned to make "If God Is Willing and da Creek Don't Rise," which deals exclusively with "man-made disasters" — the massive April 2010 oil spill, the ongoing displacement of the city's poor blacks, the dismantling of the area's traditional schools and medical facilities.
In the "Creek Don't Rise" DVD commentary, Lee calls New Orleans "the biggest case of the have's and have not's in this country. Ever."
"We are not really a part of the United States," a New Orleans radio talk show says in frustration. "We are like a rich Haiti."
Residents charge they're faced with no less than an "ethnic cleansing" of the city — "white folks making it so that black people couldn't return to the city" by failing to rebuild black neighborhoods and engaging in high-priced real estate projects that the displaced blacks could never afford.
Lee calls the rebuilding scheme "a pure gangster move to get people out. They do it under the guise of urban development, which is bullshit."
HBO's release of Spike Lee's "If God Is Willing and da Creek Don't Rise" comes in a handsome double-DVD box (no Blu-ray release). The 16:9 images from Lee's cameras are terrific for straight video, but of course the archived material comes in varying conditions. The 5.1 Dolby Digital audio is at its best in the opening sequences, with Terrence Blanchard reprising his "Inside Man"/"Levees Broke" theme over images of the broken city.
Lee's commentary stretches over both parts of the docu. The filmmaker sounds tired and the talk doesn't rank among his best (see "Malcolm X") — but Lee's always worth a listen.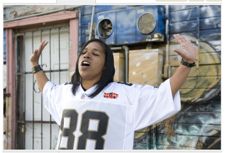 "Creek Don't Rise" gives a sympathetic hearing to ex-Federal Emergency Management Agency chief Michael Brown, the "Brownie" who President Bush infamously said was "doing a heckuva job" — while people were dying in the streets near where they stood. Ten days later, Brown was fired. "I always had the feeling that Michael Brown was a scapegoat for FEMA," Lee says in the Part 1 commentary.
Lee saves his bile for Michael Chertoff, the former head of Homeland Security "who knows (hundreds of) deaths were on him. I don't know he sleeps at night."
One man stepping is the actor and film star Brad Pitt, who put up more than $5 million of his own money to replace lost housing. "I've had a love for this place for a long time," Pitt says in the docu. "Like many, we couldn't believe the ineptitude of the recovery effort."
Pitt's Make It Right group built imaginative low-cost housing in the lower Ninth Ward, works of functional modern art on stilts. "We let the community shape it," Pitt says.
"They love their homes; they love Brad," Lee says in the commentary.
Among the contributors to the project were buyers of the "When the Levees Broke" DVD, which benefited non-profit groups such as Pitt's foundation. "He's in it for the right reasons," Lee says of Pitt. The filmmaker has similar kind words for Sean Penn, who's seen working in Haiti after its killer earthquake. "I think Sean and Brad get a lot of unfair criticism. … They do it because they're great humanitarians."
Much of the documentary's second part is dedicated to the BP oil spill. "Katrina, that was a thunderstorm compared to what we have now," one local said. Lee follows local fishermen into the desecrated marshlands, where they try to hold back the oil by using shop vacs.
One powerful sequence shows the oil gushing from underwater pipes, a few frames from each day of the disaster, time-stamped.
The documentary's title came from Lee's aged grandmother, who always said she'd see him in the morning, "If God is willing and the creek don't rise." Lee made a list of the witnesses from "Levees Broke" that he wanted to revisit. They and some key newcomers drive the "Creek Don't Rise" documentary. "We don't like narration," Lee said. "We want people to tell their stories."
Lee, of course, wasn't surprised to find no happy ending in the Big Easy. "No one's gone to jail; no one's gone to prison," he says of the botched rescue efforts following Katrnia.
"A lot of ghosts live in New Orleans," Lee says. "A lot of ghosts."
Check out Glenn Abel on Google+