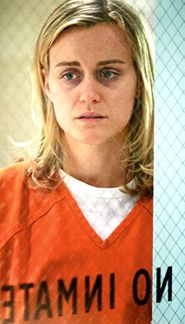 "Orange Is the New Black" returns June 6, Netflix has confirmed.
The news was unveiled to binge-watchers of "House of Cards," which began its second season Feb. 14 — the announcement no doubt incentive for "Cards" fans to keep their memberships going until the next burst of "Orange."
The adaptation of Piper Kerman's memoir was widely praised by TV critics and brought star Taylor Schilling a Golden Globe nomination. (The prison drama did not air in time for Emmy consideration.)
Read the "Orange Is the New Black" review.
The new season is said to spend more time with the gaggle of characters in the women's prison than did the debut season. It focused on Piper, a trendy Brooklyn blonde whose sketchy past lands her in a women's prison — to the astonishment of her friends, family and fiance.
"I think people are interested in everybody's journey," series creator Jenji Kohan told TV Guide. She said the show will bring "much more of an ensemble (approach)."
"Orange" will have no trouble finding material: Piper's partners in crime and punishment include "Red" Reznikov, the Russian kitchen boss; "Crazy Eyes," a loopy inmate determined to make the blonde her "wife"; Sophia, a savvy transgender hairdresser; and Nicky, a druggie whose counsel and friendship help keep Piper sane.
The busy transgender actor Laverne Cox does fascinating work as Sophia, bouncing off a strong domestic subplot; Natasha Lyonne ("American Pie") brings real-world chops (her Lohan-esque law and dope woes) to her turn as Nicky; Laura Prepon ("That '70s Show") does a sly interpretation of a drug runner from Piper's past.
"Crazy Eyes" was mentioned by Kohan as having more back-story time in "Orange Is the New Black's" season 2.
Most of the inmates, true to reality, are blacks or Latinos, making the series a showcase for actors of color.
The show creator said a season 3, if it happens, may focus on the prison guards.
"House of Cards" recently was picked up for a third season and reportedly is about to return to production.
Here is the new "Orange Is the New Black" trailer: