Addiction can land you in prison. Addiction to a TV series can keep you there.
Netflix's new "Orange Is the New Black" looks like a hit, and for good reason. It's perhaps the best new TV show of the year, coming here in the swelter of mid-July.
Created by the woman who made "Weeds," this prison dramedy stars Taylor Schilling as a trendy Brooklyn blonde whose sketchy past lands her in a women's prison — to the astonishment of her friends, family and fiance.
"I feel like I'm in a 'Bourne' movie," her fiance asks upon hearing the news. "Have you killed?"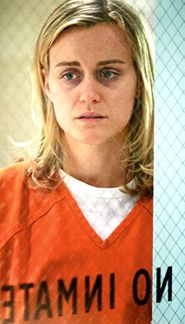 Schilling wasn't well known until this week, but most people who sat through the first "Atlas Shrugged" movie can testify she did her bit with aplomb. Schilling is a terrific actress. She better be, because there's powerhouse ensemble beside her vying for her camera time.
The Netflix original is based on the 2010 memoir "Orange Is the New Black: My Year in a Women's Prison" by Piper Kerman. The Smith College graduate with a taste for young men and women found herself in a relationship with a heroin runner. Adventure and misadventure followed. Years later, Kerman was indicted for money laundering and drug trafficking, eventually landing in a women's prison in Connecticut.
Schilling plays Piper with humor and verve. The actress is capable of going from sexy hot to broke down and busted in the blink of an eye — quite handy because the series uses "Oz"-like flashbacks to examine its inmates' highs and lows.
But "Orange Is the New Black" doesn't try to be a distaff version of that famously grim men's prison drama from HBO. ("This isn't "Oz," one character tells newbie Piper, in case anyone was still wondering.)
"I'm not entertained living in darkness," series creator Jenji Kohan says of the relatively upbeat tone. The series is laugh-out-loud funny at times, the punch lines seemingly dug out of the concrete, but "Orange" never resembles a sitcom. The matter-of-fact lesbian sex, bodily function humor and incessant foul language see to that.
Yet, like most TV series, "Orange" starts to lose momentum as it begins to rely on plot devices. This is not a 13-hour film. The first four fish-out-of-water episodes are by far the best, with the series performing a minor shark jump (chicken jump?) in the fifth. Kohan's "Weeds" also lost some of its buzz when the show's oddball premise lost its new.
Netflix isn't concerned, giving the prison series a second-season pickup. Filming was set to begin later this month. "I am thrilled that Netflix has extended my sentence," Kohan quipped.
The pickup follows renewal of "House of Cards," Netflix's "original" translation of the BBC political drama (also to be found on the streaming video service). Meanwhile, the company reportedly is engaged in talks for another season (the fifth) of "Arrested Development," the canceled Fox show that noisily reappeared on Netflix with new episodes a few months back.
Also winning renewals were what critics saw as Netflix's original programming missteps: Steven Van Zant's "Lilyhammer" (which had its charms) and Eli Roth's "Hemlock Grove" (which didn't).
"Orange" proves perfect for binge viewing in large part because of its sweep of characters. Piper's partners in crime and punishment include "Red" Reznikov, the Russian kitchen boss; "Crazy Eyes," a loopy inmate determined to make the blonde her "wife"; Sophia, a savvy transgender hairdresser; and Nicky, a druggie whose counsel and friendship help keep Piper sane.
The busy transgender actor Laverne Cox does fascinating work as Sophia, bouncing off a strong domestic subplot; Natasha Lyonne ("American Pie") brings real-world chops (her Lohan-esque law and dope woes) to her turn as Nicky; Laura Prepon ("That '70s Show") does a sly interpretation of a drug runner from Piper's past.
Most of the inmates, true to reality, are blacks or Latinos, making the series a showcase for actors of color. Among those making the most of the opportunity are Michelle Hurst, Dascha Polanco, Danielle Brooks and Samira Wiley.
Some of the weakest performances come from the best-known players:
Kate Mulgrew goes over the top as the kitchen doyenne, making you wonder if a Russian actress weren't available for the job. "American Pie" star Jason Biggs is a pasty rendition of Kerman's fiance, Larry, watering down most of his scenes. Pablo Schreiber of "The Wire" gives a cartoonish performance as the creep guard "Pornstache." He might want to check out how Sacha Baron Cohen handled a similar gig in "Hugo."
Glenn Abel on Google+