Netflix served up an entire new season of "Arrested Development" over the holiday weekend, and fans immediately binged on the 15-episode feast, according to a quickie usage study.
One DSL network showed that 36 percent of devices accessing Netflix on Sunday watched at least one episode of "Arrested Development," broadband analysts Procera said. That was three times the viewing reported for Netflix's other 2013 hit, "House of Cards."
Netflix wasn't talking about its traffic numbers, as usual, with the official line probably coming at earnings-report time mid-summer. The deal for "Arrested Development" was announced in late 2011, dark days for the company's stock.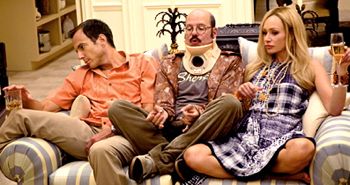 About 10 percent of Netflix viewers logged in on Sunday and Monday binged on all 15 episodes, said Procera, based on sampling from most of the major Internet cable networks and DSL providers. About 10 percent of traffic on one U.S. university network was for the series alone, the analysts said.
One cable network saw a jump in Netflix traffic peak volumes of 10% on Sunday over the previous Sunday, despite the holiday weekend, according to the Procera blog post.
The season 4 "Arrested Development" episodes went online at 12:01 a.m. PT. Not surprisingly, traffic patterns showed most viewers watched the season's episodes in order. The Xbox 360, PS3 and Apple products were the viewing devices of choice. About 55 percent of Netflix users who tuned into the service via the Xbox and Apple devices watched the new adventures of the Bluth family, Procera said.
Netflix's "rescue" of the old Fox series looks like it produced a hit for Reed Hastings and Co., but investors weren't entirely convinced. Netflix stock fell more than 6 percent in the next trading session (Tuesday), with tepid reviews for the new "Arrested Development" episodes blamed for the dip. Netflix shareholders can take the hit, having profited from one of the year's best-performing stocks.
In contrast, "House of Cards," a remake of a BBC series, inspired almost unanimously positive reviews in February, as Netflix began its 2013 stock run-up.
The New York Times' Mike Hale, for instance, had little good to say about season 4:
Everything feels slowed down and dragged out at the same time that it feels forced and overly complicated. The longer expository scenes seem interminable. … Watching the episodes in large doses further exposes their deficiencies.
About 100,000 users illegally downloaded episodes of the show within the first 24 hours, the bitstream web site TorrentFreak reported. That's far fewer cops than, say, "Game of Thrones," but still impressive … in a covert way.
The new "Arrested Development" episodes even goofed on piracy, with flashbacks from the Fox seasons watermarked from "Showstealer Pro Trial Version" — a DVD burner with its own faux web site. The slogan: "Trusted by Netflix, Googled by everyone."
Executive producer Mitchell Hurwitz was quoted thusly: "When my editing team told me they had a way around the rights issues with Fox to old episodes, I just told them, 'Go for it.' Was that bad?"
Fox canceled "Arrested Development" in 2006. Several canceled Fox shows have found new life, including "Family Guy."