The Netflix original "House of Cards" picked up nine Emmy nominations, helping streaming video make a splashy entrance into the showbiz awards arena. Netflix thanked the TV industry for a "warm welcome."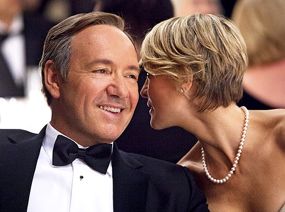 Kevin Spacey (Francis Underwood) of "House of Cards" was nominated for best actor in a drama series, while Robin Wright (Claire Underwood) picked up a nom as best actress.
(Update: "House of Cards" won three Emmys, including one for David Fincher for direction for a drama series.)
The political black comedy "House of Cards" was nominated for the Emmys' most prestigious honor, Outstanding Drama Series.
In all, Netflix scored 14 nominations on July 18. While impressive and historic, the count fell far short of HBO's 108 mentions. Netflix easily led what the television Academy called "broadband nominations," however. Had Netflix been a cable network, it would have placed sixth in total nominations.
Netflix chief Reed Hastings repeatedly has said he admires the HBO model for original programming.
"Arrested Development" drew three noms while "Hemlock Grove" harvested two. Justin Bateman of "Arrested Development" had the only other major nomination, for lead actor in a comedy series.
Netflix noted that it had made broadcast history with the pack of nominations for digital-only content. It thanked the TV industry for the "warm welcome."
For "House of Cards," noted filmmaker David Fincher ("Fight Club") picked up a nom for his direction of the first episode. Fincher is executive producer of the series.
The other "House of Cards" nominations were for casting, editing, cinematography, main title theme music and music composition for the series.
There was no writing nomination in the "Cards," however, perhaps a reflection of the show being an American translation of the famous British series starring Ian Richardson as Francis Underwood — that's F.U. to you. The plot lines are similar, but far from identical.
Other minor disappointments may have been the lack of supporting actor nominations for Corey Stoll and Kate Mara.
Netflix content czar Ted Sarandos said: "We are overwhelmed with 14 nominations and honored by a warm welcome which confirms what we have always believed, that great television is great television regardless of where, when and how it is enjoyed."
The original content Emmys dramatized the gulf in original programming between Netflix and its two primary rivals, Amazon and Hulu, neither of which has fielded an original of note.
The other "Arrested Development" nominations were for editing and music composition. The "Hemlock Grove" noms were for special visual effects and main title music.
"Orange Is the New Black," Netflix's latest original program, enjoyed especially strong reviews for its acting, but the women's prison dramedy will not be eligible until next year's awards.
Netflix's lightly regarded "Lilyhammer" was eligible for Emmy consideration last year, but received no attention. This year, Netflix ran L.A.-area campaigns for "House of Cards" and "Arrested Development."
"House of Cards," "Hemlock Grove" and "Orange Is the New Black" have been renewed for second seasons. Netflix reportedly is in talks for a new season of "Arrested Development," which started life on the Fox network.