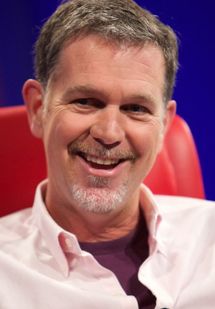 Netflix chieftain Reed Hastings was back at the All Things Digital hootenanny, talking about fiber optics, his content dealings and … "Firefly."
When asked about his up-and-down history with Hollywood, Hastings replied: "The whole relationship thing is overstated." With good money comes good vibes.
Hastings joined other top tech leaders at the Wall Street Journal's All Things Digital conference, May 31-June 2 in Rancho Palos Verdes, Calif.
As for getting the latest and greatest content from the major studios, Hastings went directly to the price point: "Consumers want us to have all the new stuff. But it's very expensive, and we can't afford all the new stuff and offer the service for $8."
The sci-fi series "Firefly," now available on Netflix, merited a couple of mentions, but Hastings wouldn't take the bait when asked if he would "rescue" (revive) the quickly cancelled but beloved show. "Serialized shows, where you can go back and catch old shows, those are good for us."
Hastings talked down his deal for the "House of Cards" (remake) original series as simply a licensing arrangement. Netflix committed to at least 26 episodes of the Kevin Spacey political drama, which is expected to begin streaming in late 2012. "Really, we'd like to spend that money on Showtime and HBO shows," he said.
Hastings' No. 1 target for content acquisition? HBO's "The Wire."
Along with the usual comments on Starz, "cutting the cord" and not being in competition with cablers/broadcast media, he talked about a "five-year plan" for social-networking Netflix. He was not asked about recent rumors that Netflix was nearing a deal with Facebook. (Video below)
Interviewer Kara Swisher wanted to know about the sudden consumer adaptation of of tablet computers — "It's a big deal, right?":
"Meh. Apple TV is more important for us. Tablets (are) not a revolution. The big deal for us is Internet-connected TVs."
The Netflix chief brushed aside reports that his company was hogging the nation's bandwidth, saying the drain was only a "last-mile thing." He pointed to the "tremendous" promise of fiber optics, predicting homes would all have a gigabit in 10 years. "The world is going to get fiber everywhere," he said.
(Photo: Asa Mathat | All Things Digital)