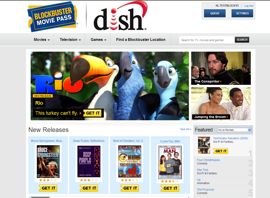 Dish Network unveiled its combo DVD rental and streaming video service, at a $10 price point.
Sound familiar? Yep, that's the same price Netflix customers were paying until that company busted out with its notorious 60 percent price hike.
Dish executives say the new "Blockbuster Movie Pass" plan and its pricing were set before the Netflix fiasco, but they'll happily take advantage of the turmoil.
"Unlike other companies, we offer the simplicity of one company, one bill and one connection," said Joe Clayton, CEO of DISH Network. Netflix quite recently split its DVD rental service into a separate outfit requiring use of another web site and another billing account, setting off another firestorm of complaints.
Dish executives repeatedly referred to the advantage of "one company" during the announcement press conference in San Francisco. They said Movie Pass streaming would be strong on both TV programs and movies: "Hulu is very good at doing TV shows. Netflix is good at movies. No one is doing all of the above like we are doing," Clayton said.
The streaming video catalog is underwhelming so far: 3,000 movies. Netflix has 3,000 movies about zombies (maybe).
Movie Pass does have Starz fare on board, including Sony and Disney. Sony and Starz have bailed on Netflix. (Movie Pass says it has 4,000 movies available to stream only to PCs.)
The Movie Pass includes video games (just added by Netflix, but at an additional fee) and no Blu-ray surcharge (unlike Netflix). Netflix replied that it has no "cover charge" such as a satellite subscription fee.
"We are uniquely positioned to take advantage of the myriad (sic) of ways consumers seek access to their favorite movies, TV shows or games," Clayton continued.
But then there's the fine print. To take advantage, you'll have to be a Dish satellite system subscriber who also pays for pay TV channels. With an HD DVR. That rules out as many as half of Dish's subscribers, the AP reported. (Dish bills it as "a pay TV industry first.")
Dish executives said they "continue" to work on a stand-alone Blockbuster streaming video service. When asked about networking and integrated access, they spoke of workaround tech such as their current dongles and Slingboxes.
The news was expected but sent Dish stock up 5 percent. It had no apparent effect on Netflix stock, which up a half percent.
Dish Network bought bankrupt Blockbuster in part because of the damage inflicted on it by Netflix.
Check out the Movie Pass press conference from Sept. 23:
Also: Fierce Online Video says "The Blockbuster Movie Pass deal is a dud"