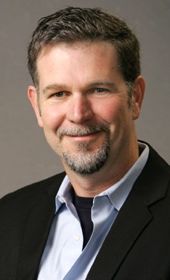 Netflix chieftain Reed Hastings made an apology of sorts in a letter to subscribers and then proceeded to unveil Qwikster as his company's new DVD spinoff.
Neflix will remain the brand name for the streaming video unit, also known so far as Watch Instantly.
"I messed up," Hastings wrote on the company blog. "I owe everyone an explanation."
The CEO, who infuriated subscribers with what amounted to a 60 percent price hike, admitted: "I slid into arrogance based upon past success." But, he said, he didn't regret the price hikes.
Netflix stock lost another 7.4 percent as the market week opened. Analysts said the split could lead to another round of subscriber defections. (Read Stream & Stream's news analysis of the Netflix mess.)
The post, "An Explanation and Some Reflections," went on to explain why Hastings felt the need to split DVD rentals and streaming video, and offered one upgrade: Qwikster will rent video games (but with an add-on monthly fee, as with Blu-rays).
"The additional streaming content we have coming in the next few months is substantial," Hastings wrote, addressing one of the sore spots with Watch Instantly subs.
Immediate reaction (in the blog's comments section) ran mostly negative, along the lines of: "While I generally understand your rationale for these changes, splitting the websites for the two services (both of which I've subscribed to for years) punishes dual subscribers by adding significant inconvenience. … That really, really sucks."
Of course, one analyst at NPD told the New York Times, there is a "silent majority" of Netflix customers who won't be infuriated by the changes.
Hastings said: "It is merely a renamed version of the Netflix DVD website, but with the addition of video games."
qwikster.com had but one teaser page as of early Tuesday, branding it as "Netflix company."
Hastings also released a video, talking up the future of streaming video (below):