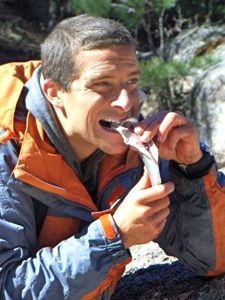 In the midst of its very own Shark Week, Netflix renewed its content deal with cable favorite Discovery Communications.
The content deal brings "a wide range of additional episodes and series" from the Discovery networks," Netflix said Sept. 21.
The companies' joint press release cited "highlights" such "Man vs. Wild" (pictured), "Say Yes to the Dress" and "River Monsters" — all already available on Netflix but presumably in for expanded presences.
Discovery's best-known channels are Discovery and Animal Planet. There also are TLC, Science, the Military Channel and ID: Investigation Discovery.
Perhaps learning from its loss of Criterion Collection content, Netflix has agreed to give Discovery a branded search presence, Reuters reported.
Netflix's many newborn critics had a laugh earlier in the week when indie film distributor Osiris Entertainment announced it had reached a content deal with the video streamer. Titles (some in the public domain) included "Santa Claus and the Three Bears," "Zulu," "Bonanza: Dark Star" and "Alpha Bots Christmas." They're all on Netflix now.
More Netflix news:
Has Netflix lost it? News analysis
Netflix splits, says 'sorry' for botched rate hike
Starz: Netflix streaming video talks are over