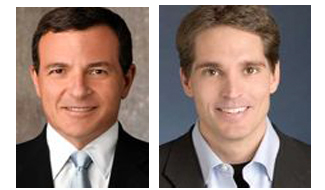 The for-sale sign officially hangs on Hulu.
Walt Disney Co. CEO Robert Iger told reporters Wednesday that the big media owners of the online video service are "committed to selling it."
"I don't want to comment on any aspect of the deal," said Iger, left photo, at the Allen & Co. media chiefs summit in Idaho. "It's a good time to be in the content business, though — the branded content business."
Iger's comments were the first clear public statement from the Hulu owners. Bloomberg broke the news.
Meanwhile, Hulu celebrated its success with news that it expects to top 1 million paying subscribers (Hulu Plus) earlier than predicted — probably by the end of summer.
The prospect of Google buying Hulu has attracted the most attention in recent weeks, but the list of about a dozen potential new owners includes Microsoft, Yahoo, Microsoft, Verizon and AT&T. Yahoo's unsolicited interest in buying Hulu reportedly led to the board's above-ground attempts to sell. That activity was reported in mid-June, and bankers have been busy contacting potential buyers since then.
Hulu was created by big media, but long has maintained a start-up mentality. It's come a long way since the first wave of detractors labeled it a "clown company" from clueless traditional broadcasters.
Most of Hulu's success (and attitude) comes from CEO Jason Kilar, right photo, survivor of many battles with the online video service's owners: News Corp., Disney and NBC Universal (Comcast). The equity outfit Providence Equity Partners also has a stake.
Kilar previously expected the 1 million subs benchmark to be surpassed by the end of the year. He credits Hulu with "the fastest start of any online video subscription service." Still, that's a fraction of the 23 million subscribers to industry leader Netflix (although not all of those customers use the streaming media service).
Kilar reportedly works without a contract these days, most likely waiting for the situation to stabilize — or for a salary gift from his current bosses.
Any sale should bring a price north of $2 billion, Bloomberg and SNL Kagan estimate.
Netflix stock shrugged off the Hulu sale news. It added another $1.33 to $290.96, nearing its 52-week high on a surge linked to news that Netflix was expanding into Latin America and the Caribbean.