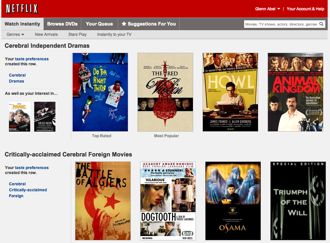 Netflix's streaming video service is flowing to Latin American and the Caribbean.
The company said Tuesday that it plans to expand into 43 countries south of the U.S., inspiring an 8 percent jump in the already high-flying stock.
Netflix made its move into Canada last fall. "If we succeed in Canada, we will certainly look at other markets," CEO Reed Hastings said at the time.
Streaming video programming will be available "in Spanish, Portuguese or English, depending on their preference," according to the Netflix corporate blog.
Launch dates are TBA. Would-be subscribers in Mexico, Central America, South America and the Caribbean are being encouraged to leave their email on the Netflix web site for information on the launch in their area.
Netflix stock closed at $289.63 Tuesday, nearing its 52-week high of $291.23.
Disclaimer: The author is a Netflix stockholder. A happy one.