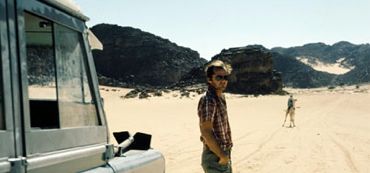 Jack Nicholson says the making of Michelangelo Antonioni's "The Passenger" was "the biggest adventure in filming I ever had in my life." That's saying plenty and probably explains why the actor did his first solo commentary for the DVD.
"It's very hard for me to separate the experience of making the movie from the movie itself," he says. For the filmmakers and the audience, "The Passenger" was very much a road movie, stretching from deep in the Sahara desert to London, Munich, Barcelona and Andalucia, Spain. The plot lines run together at the intersection of Hitchcock and Paul Bowles.
This "lost classic," made for MGM in 1975, has been MIA on DVD until this release and hasn't been seen much in any form since theatrical release. Sony's single-disc release contains the original director's cut, with about seven minutes unseen by U.S. audiences. The film is in English, mostly.
The film truly needs to be seen on a cinema screen, but it's rewarding on DVD as well. Repeat viewings pay off as the movie reveals more of its secrets with every spin. Needless to say, a Blu-ray is long overdue.
Nicholson clearly remains a disciple of his "Passenger" director, the Italian dream weaver Michelangelo Antonioni. The actor frets about talking over some of the master's mysterioso scenes, apologizing for "distracting" viewers. No worries — Nicholson is great company, of course, and his memories of making "The Passenger" are rich and fairly detailed.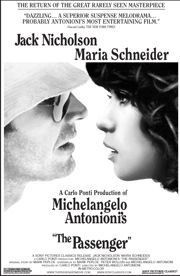 Nicholson, who cites the "dispassionate distance" of Antonioni's work, works the commentary in the spirit of the film. He has only this to say about a street scene: "Bicycles. Broken-down cars. Buses. Cave dwellers. Beer." All pauses dramatic.
The actor speaks of his director as a warm but combustible gentleman. Nicholson recalls a particular piece of direction: "Jack. Less twitchy."
The movie tells of a jaded documentary filmmaker (Nicholson), frustrated in his attempts to cover a North African civil war. An arms dealer staying in the next hotel room dies, and on impulse the reporter takes over the man's identity, abandoning his own. In Barcelona, the impostor hooks up with a French woman high on life and Gaudi. She urges him to play out the dangerous charade.
"People disappear every day," she says as a warning. "Every time they leave the room," he replies.
Antonioni has an eye for beautiful young women, often building his films around them. (Nicholson: "I agree with him on that!"). Along for the ride as "The Passenger" was Maria Schneider, whose career went supernova after her sexually charged performance in "Last Tango in Paris."
Schneider refused to do nudity, fearing type-casting, but finally agreed to appear in the buff once, in a long shot. Nicholson cites certain "generational" issues between her and the director and points out how in one scene he was holding up the actress because she was zonked on painkillers. Even stoned, Schneider delivered her lines perfectly. "She was a movie star," Nicholson says without irony.
A second commentary track comes from screenwriter Mark Peploe ("The Sheltering Sky"), who based the tale on his experiences as a docu maker. Peploe's talk drags at times, but if you want to dig into the movie, he provides a lot of detail.
Of the film's wanderlust, he says: "In Antonioni's movies, locations are character. It doesn't just take place somewhere" — as with Alfred Hitchcock. "Nowadays, it's hard to imagine anyone doing this. It would cost $100 million."
Nicholson and Peploe both cover the film's justly famous seven-minute tracking shot, which begins inside the impostor's hotel room and moves outside, into the sun and dust. Done in the days before Steadicam, it was achieved by moving the camera along a wire, past the set's walls, which split in two, and onto a crane, which then did an achingly slow 180. Nicholson calls it "one of the most memorable shots in movies."
The remastered "Passenger" looks quite good for a 1970s movie, its images wear-free and mostly easy on the eyes — a tad stringent or sun-bleached on occasion, probably by design. Images are widescreen, of course, enhanced for 16×9 monitors. The two-channel audio is good enough.
Update: Both Antonioni (2007) and Maria Schneider (2011) died since this review was written.
Check out Glenn Abel on Google+