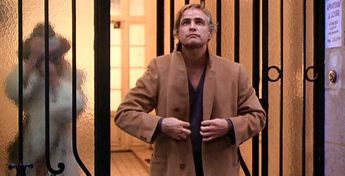 "Growing old is a crime," the young and gorgeous Maria Schneider says in "Last Tango in Paris."
Alas, the French actress eventually proved guilty of that offense, as must we all. Schneider died just days before the Blu-ray debut of the infamous 1972 film, a woman decimated by cancer and years of hard living.
After "Last Tango," Schneider went on to make many other movies ("The Passenger," notably), but she'll always be known as her 19-year-old self, playing Marlon Brando's eager Parisian lover. The great American actor, too, would know the premature ravages of time.
But suspended in the amber patina of the film, these two beautiful creatures remain with us — fully intoxicating as strangers who engage in an anonymous, dangerous and sexually charged relationship.
MGM Home Entertainment has released Bernardo Bertolucci's "Last Tango in Paris" on a single-disc "uncut" Blu-ray. Unfortunately, and oddly, there are no extras on the Blu-ray beyond a trailer.
The "Last Tango" Blu-ray serves up a visual feast. The high-def images are handsome with no disruptive wear or artifacting. Skin tones have a healthy glow, contrasts cut into the softness and grain comes in a pleasing measure. The aspect ratio is 1.85:1.
Vittorio Storaro (cinematography) and Philippe Turlure (production design) turned the lovers' crappy apartment into a place of wonder. Storaro's tracking shots redefined what could be done with interiors. The opening credits' use of Francis Bacon paintings set the artistic tone.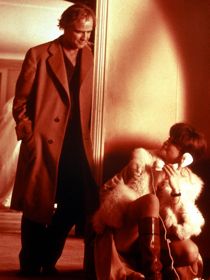 Some of "Last Tango's" early fame was due to Gato Barbieri's ubiquitous theme song, reproduced here with plenty of fire, via the original mono in DTS-HD Master Audio. Dialog is clear for the most part and Brando doesn't mumble much, although some viewers will find it helpful to add English subtitles to the default French.
What a missed opportunity that MGM's disc lacks a documentary or informed commentary. There is quite a story to tell.
The movie was banned, burned and politicized across the globe. The U.S. rating system smacked "Last Tango" with an X. After the MPAA's system was overhauled, subsequent theatrical runs and home video releases carried the NC-17 warning. Italy ordered all copies destroyed and found its native son director guilty of creating pornography.
"Last Tango's" excesses remain startling, even now. Both "Last Tango" stars claimed they felt "raped" by the movie and took it out on the director. The Brando character demands his lover bring him butter, and then pins her down for anal sex. (Schneider said her tears of humiliation were real.) Later, Brando has the woman put her fingers up his ass while he fantasizes about a pig screwing her.
Who knows how the film would be rated today. Probably an "R." Both "The Girl With the Dragon Tattoo" and the remake of "I Spit on Your Grave" contain sickening scenes of anal rape and received R ratings.
Sex scenes in mainstream movies now go well beyond those in "Last Tango." For example, male frontal nudity shocks few sophisticated movie-goers these days. Director Bertolucci decided to cut shots of Brando's penis as too demeaning, although he had no such issues with Schneider.
The script's screaming sexism, however, would make it difficult for the film to find mainstream distribution. Schneider accused Bertolucci of "stealing her youth," and in recent days he's been quoted as saying she probably was right.
So why watch? Here is true work of art, revolutionary in its time and essential viewing in ours. The movie contains some of Brando's best acting as he explores the madness in grief. Roger Ebert, revisting the film in 1995, wrote: "Brando's anguished monologue over the dead body of his wife (was) perhaps the best acting he has ever done."
In her famous review, the critic Pauline Kael said: "Bertolucci and Brando have altered the face of an art form."
Arguably it's the most compelling film of Bertolucci's career. "Last Tango's" deeply flawed characters still have much to say about sex, death, the illusions of relationships and the business of being human.
* * * * *
Notes: The run time of MGM's "uncut edition" Blu-ray is 129 minutes. The censored U.S. version clocked in at 127. The original European release came to 136 minutes.
The movie debuted in the U.S. in 1972, although the Blu-ray info cites the year as 1973.
Check out Glenn Abel on Google+