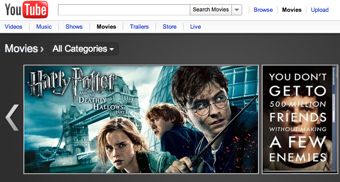 Here's YouTube's lineup of Hollywood content providers for its upgraded VOD service: Warner Bros., NBC Universal, and Sony Pictures.
Majors missing in action: Paramount, Disney and Fox, all of which have conflicting issues of some kind.
The new video-on-demand partnerships, which had been anticipated, double the numbers of movies on the YouTube movie rental page — to 6,000 from 3,000. Some will be available day and date with DVD releases. "The Dilemma" ($3.99) came out less than a week ago.
YouTube's movies rent at "industry standard pricing" — meaning $2.98 and up. A 24-hour "pass" to "The Social Network" or "The Green Hornet" will cost you $3.99, the same as on Amazon Instant Video.
YouTube has no focused presence for streaming movies to TV monitors — as do Netflix and Hulu Plus — so the proposition is targeted at people who watch movies on computer screens. Top dog in that business. of course, is the iTunes store.
(Update: Google unveiled a music streaming beta May 10 that includes movies for for Android devices and PCs. Same movies for rent as the ones as on YouTube.)
Netflix (3%) and Amazon (1.6%) stocks both remained up after the YouTube news was announced
YouTube's blog hailed the addition of "new releases" such as "Inception," "The King's Speech," "Little Fockers," "The Green Hornet" and "Despicable Me." Then there are the oldie goldies such as "Caddyshack," "Goodfellas," "Scarface" and "Taxi Driver."
The vastly upgraded main YouTube movie page also features a top 10 of free movie rentals, such as the omnipresent "Super Size Me" and "Cadillac Records." Many individual title pages include Rotten Tomatoes ratings and cast credits.
Since going live, the "YouTube Store" had looked pretty much like an afterthought — its plain rental page a far cry from the slick UI's on iTunes and Amazon. The YouTube redesign owes much to Hulu and Amazon.
The new studio content might help YouTube mount some kind of challenge to iTunes and Amazon's video on demand service, given its massive audience for viewer-generated content. But YouTube clearly is playing catch-up, bringing nothing new to the table.
The three major studio holdouts' resistance comes in large part as a reaction to Google and YouTube's sketchy policies on piracy and copyright protections. Paramount parent Viacom has been involved in a long-running DMCA (copyright) battle with Google and YouTube.
YouTube already has content partnerships with Lionsgate, Staz, The Weinstein Co. and Magnolia Pictures.