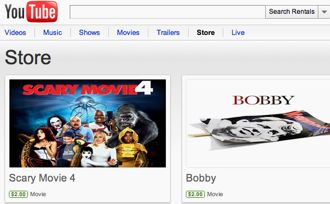 Warner Bros., Sony and Universal are about to be confirmed as content providers for YouTube's year-old movie rental service, several media sources said.
Fox, Paramount and Disney apparently won't be in the mix, at least for a while. Their resistance comes in reaction to Google and YouTube's sketchy policies on piracy and copyright protections.
Google's search engine page results point to pirated content being shared user-to-user, while YouTube long has angered Hollywood with its casual approach to pulling down user videos with contested content.
YouTube wasn't confirming or denying: "We've steadily been adding more and more titles since launching movies for rent on YouTube over a year ago and now have thousands of titles available," the Google subsidiary said in a statement.
The story of the new content providers was broken by the Wrap, an online Hollywood trade. The New York Times followed up on the YouTube story and received off-the-record confirmations.
The new studio content might help YouTube mount some kind of challenge to iTunes and Amazon's video on demand service, given its massive audience for viewer-generated content. But that'll take a lot of doing for a service whose on-page branding consists solely of a stock headline with the word "Store."
Since going live, the "YouTube Store" has looked pretty much like an afterthought — its plain rental page a far cry from the slick UI's on iTunes and Amazon. Indie fare on the YouTube page, going for $2 a rental, includes marginal and dated titles such "Scary Movie 4," "Death Proof," "The Matador" and "Reservoir Dogs."
Paramount parent Viacom has been involved in a long-running copyright (DMCA) battle with Google/YouTube.