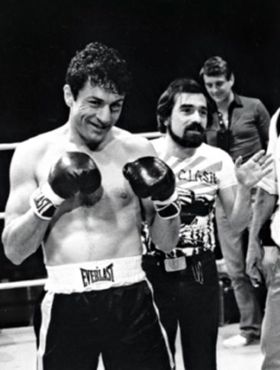 Martin Scorsese's "Raging Bill," an underdog in its day and a undisputed classic today, makes another comeback on Blu-ray, via MGM's 30th anniversary edition.
"Raging Bull" fans still viewing the Robert De Niro-starrer on DVD should make the upgrade to high definition. This stunning black-and-white release is about as definitive as it's going to get.
Owners of the 2009 Blu-ray can let this one pass, however, since the only changes of note seem to be a quartet of extra features. The excellent Blu-ray images and audio appear identical to the previous HD disc, now discontinued.
The Blu-ray's widescreen images (1.85:1) look sensational, with concussion blacks and silky grays fighting it out across a distinct scale. The HD-DTS Master Audio has plenty of punch, but requires some bobbing and weaving with the volume control to catch all of the dialogue but not be blasted out in louder moments. The actors do more than their share of mumbling — great for authenticity; bad for catching dialog. Most of the audio action takes place at the center of the ring, or on the other front speakers.
MGM's 30th anniversary edition of "Raging Bull" on Blu-ray contains these new docu shorts, which look great in HD:
"Marty & Bobby": Scorsese, De Niro and producer Irwin Winkler talk about the director and star's special relationship ("beyond telepathy"), ranging from "Mean Streets" to "Casino." The three men talk about what it took to get the movie made. "If there hadn't been a 'Rocky' there never would have been a 'Raging Bull,' " says Winkler, who produced both movies. Scorsese calls it "De Niro's passion project" and notes that he was clueless about boxing at the time.
"Marty on Film": The director points out that genres didn't really exist when he was growing up, at least not to the extent that films are categorized today. He says the spirit of '70s filmmaking has been shipped off to indie films, with the majors simply working formulas. After "Raging Bull," he says, "I pretty much decided not to make features anymore," in favor of documentaries and spiritual projects.
"Remembering Jake": Assembles some old-timers in the fight game with connections to La Motta. One guy claims that La Motta hasn't to this day admitted throwing a fight, although the boxer did so in his biography. Some cool stories nonetheless. Worth checking out.
"Reflecting on a Classic": Not worth checking out. A quartet of midlevel contemporary directors look back on the film and state the obvious.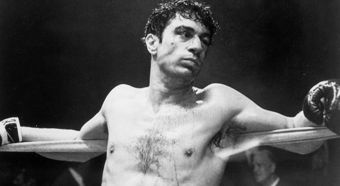 The extras imported from the old Blu-ray and special edition DVD dig deeper into Scorsese's methods and motivations, drawing heavily on the observations of Thelma Schoonmaker, his longtime editor who won an Oscar for the film.
Here's Schoonmaker on Scorsese's feelings about the blood sport: "Marty is not a great supporter of boxing. One of the things he wanted to show is (how) brutal and terrifying it is."
"I liked music more," Scorsese says simply. "I'm not a sports fan." He'd just come off shooting the musical "New York, New York" and the concert film "The Last Waltz" when he finally surrendered to star Robert De Niro's six-year campaign to film La Motta's rough-hewn autobiographical book.
Scorsese used what he'd learned on "New York" to stage the famous fight scenes of "Raging Bull" — storyboarding and editing the bouts "as choreography, as music." From "The Last Waltz," he recycled the technique of minimizing crowd shots, forcing the viewer's focus inside the ropes. A single camera recorded the action, prowling the ring like another fighter.
One of the Blu-ray's best extras is a featurette in which Schoonmaker sits at her editing bay, breaking down the fight scenes, running film backward and forward as De Niro does battle with the real-life boxers he faced during filming. Each fight scene employed a different visual style.
Schoonmaker shows how Scorsese used long lenses and flames to create a surreal vision of La Motta's third fight against Sugar Ray Robinson. Visual distortion from the heat produced a "disturbing, miragelike effect." Schoonmaker worked with raw footage at three slow speeds to further the disorientation in some of the bouts. Scorsese and cinematographer Michael Chapman used the "Psycho" shower sceneas a blueprint for the blood-soaked conclusion of the boxers' sixth and final fight.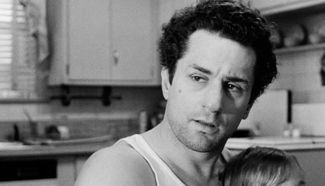 La Motta says he went "a thousand" rounds with De Niro in preparation for filming. "I'm positive he could have fought professionally," the former champ says.
A short but telling extra shows how carefully Scorsese and De Niro followed the script from La Motta's real fights. The three-minute "Shot for Shot" intercuts footage from the actual and movie fights, the drama heightened by Frank Warner's jungle-beast sound effects from "Raging Bull."
"Scorsese followed every punch the way I did it," La Motta says in the must-see featurette "The Bronx Bull." "You couldn't tell the difference."
By the time De Niro famously put on 60 pounds to play La Motta in his lounge lizard days, "He knew more about me than anyone who ever lived," the old champ says. "He wanted to feel everything." De Niro's portrayal earned him the best actor Oscar, but the film somehow lost out to best picture "Ordinary People."
Here's what De Niro says today about gaining the weight: "It's fun for the first 20 pounds. After that … it is not fun."
Most viewers will be satisfied with the film's history as told on the quartet of featurettes directed in 2004 by Laurent Bouzereau. They're solid pieces, but viewers might tire of sitting through opening titles and end credits as they navigate the short films, obviously separated at birth. De Niro participates in the featurettes, not the commentaries.
Scorsese and Schoonmaker's commentary might sound familiar to owners of "Raging Bull" laserdiscs. Their talks were recorded separately and include some lengthy silences, but there's no shortage of content or insight.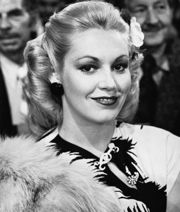 Scorsese talks about hiring Joe Pesci (as La Motta's brother Joey) just as he was about to quit acting. Pesci then recruited a couple of actors from his turf, notably teen beauty Cathy Moriarty (Vickie La Motta). "Her silence was deafening," Scorsese says of the first-time actress. "She said everything just by her presence."
Schoonmaker notes that Scorsese "thinks deeply as an editor" while shooting and says he probably deserved her Oscar. Early reviews were "extremely bad," she recalls, with the Hollywood trades advising exhibitors to pass on the film.
La Motta is interviewed on the second commentary by his nephew; screenwriters Mardik Martin and Paul Schrader share the track, recalling the tortured story development.
A gang commentary rounds up sound editor Warner, director of photography Chapman, producer Irwin Winkler and several of the actors.
Winkler says United Artists had reservations about making a movie about a "cockroach," but greenlighted the project because of "Rocky" mania.
"I didn't think (La Motta) was any worse than a lot of people," De Niro says in the new extras.
A lot of material gets repeated across the hours of extras presented here, and in one or two cases audio comments seem simply recycled in the featurettes. The frenetic trailer kicks ass.
Check out Glenn Abel on Google+