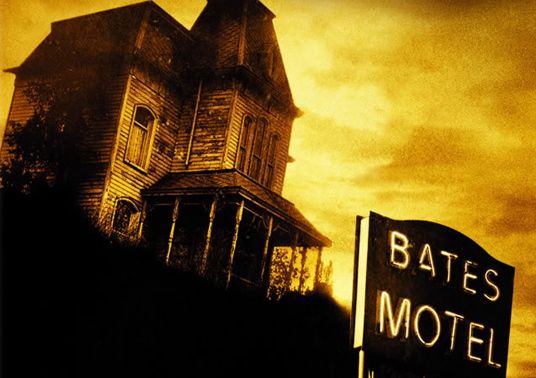 When it comes to Blu-ray, Universal Pictures' classic monster movies remain locked in the digital dungeon. How long must we wait before Dracula, the Wolf Man, Frankenstein and the gang do their worst in high definition?
Black and white films can look sensational in high definition, at least as impressive as well-done color releases from decades past — the current b&w releases "Night of the Hunter" and "All About Eve" come to mind. But the HD format relishes in revealing the sins of any source material, meaning Universal has a lot of restoration work ahead.
For now, we have Alfred Hitchcock's "Psycho" and a handful of contemporary horror flicks. Here are some of the best Blu-ray horror movies out from Universal: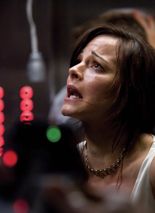 Devil — The studio talked up this small-budget project as "from the mind of M. Night Shyamalan," but don't hold that against the film. Director John Erick Dowdle keeps things tight and tense in this tale of the Dark One trapped in an elevator with a bunch of generic humans. Chris Messina plays a detective on the outside trying to figure out who's killing whom between floors. Could it be … Satan? Savvy viewers will think they know what's what in the story, and they'll be wrong. The movie feels like part of a horror anthology, and indeed it's part 1 of Shyamalan's planned Night Chronicles, a "Twilight Zone" kind of series with his ideas executed by young filmmakers. The Blu-ray's image stream does an OK job of presenting Tak Fujimoto's fine cinematography (don't miss the opening credits). With much of the the film at close quarters (and bits of it in the dark), the DTS-HD Master Audio 5.1 delivers much-needed dimensionality.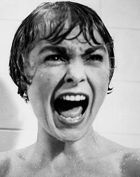 Psycho (Universal) — Throw away your dreary "Psycho" DVDs — justice finally has been done over at Universal. The mother of all horror movies gets all dressed up for its 50th anniversary in a super-sharp Blu-ray edition, complete with a chilling 5.1 lossless remix. Universal delivers a houseful of bonus material -– mostly reruns — but be sure to catch the new 10-minute docu on the 5.1 audio project. (Relax, purists, you have the option to watch the film with the original mono.) The excellent 90-minute documentary "The Making of Psycho" returns from the 1997 (and 2008) DVD releases, bolstered by the so-so short "In the Master's Shadow: Hitchcock's Legacy" and a highly listenable commentary from Hitch expert Stephen Rebello. Lather up for a breakdown of the shower scene, presented with and without music, as well as with the Saul Bass storyboards.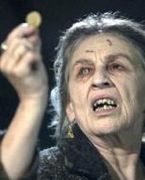 Drag Me to Hell — A Blu-ray hell-ride courtesy of "Evil Dead" maestro Sam Raimi. Great to have him back. The director had spent the better part of a decade screwing around with "Spider-Man," leaving his horror movie fans hanging. Raimi finally returned to the dark side with this sizzling tale of yuppies vs. the supernatural. Our heroine is a well-meaning loan officer who reluctantly evicts an evil-eyed crone from her home. Bad call. Real bad. The curse is in, and we're along for an hour and a half of supercharged payback. Extras include production segments in which we meet the real-life crone, a hell of a gal. The HD images and lossless audio are supernaturally good. Feed the aggressive audio mix plenty of juice and hold on.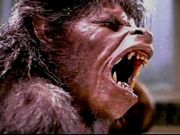 An American Werewolf in London — The horror-comedy classic comes to Blu-ray with its fangs fully bared. Even at 30 years old, "American Werewolf" hasn't aged a bit: the rotting corpse guy is still a laugh riot, the violence has plenty of kick and young Jenny Agutter is downright luminous. The Blu-ray's extras include "Beware the Moon," a 91-minute documentary that debuted with this disc. The commentary by stars David Naughton and Griffin Dunne is reheated but quite good. HD images look fine considering the source material's inherent softness, darkness and grain. The super-crisp DTS-HD Master Audio 5.1 soundtrack — filled with all those lunar songs like "Bad Moon Rising" — will have you howling along. Van the Man's "Moondance" never swung sweeter.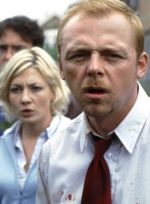 Shaun of the Dead — Edgar Wright's delightful spoof of zombie movies came out in 1994, not long after "28 Days Later" herded the flesh-eating undead into Britain. The continuing glut of zombie movies hasn't taken any bite out of this social satire, in which slackers find it hard to tell when their fellow citizens start lumbering about and feasting on humans. Simon Pegg and Nick Frost reprise their buddy bit from "Hot Fuzz," this time with more Laurel & Hardy in the mix. Kate Ashfield is delightful as Pegg's long-suffering ex-girlfriend who gets dragged off to the pub one more time — to make a last stand against the hungry hordes. Universal's Blu-ray looks better than it needs to and the killer soundtrack in DTS-HD Master Audio 5.1 will leave you gobsmacked. Lots of fun extras. Everyone gets in on the various commentaries, including the zombies.