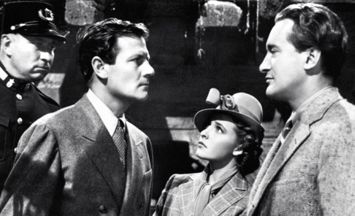 The Brits excelled at propaganda movies, an awkward genre that nonetheless produced a handful of classics — say, Noel Coward's "In Which We Serve" and the Archers' "The 49th Parallel."
MIA from the brisk U.K. propaganda effort was one Alfred Hitchcock, the director who'd found fame combining dark British sensibilities with German Expressionistic aesthetics. Hitchcock moved to Hollywood as WWII began, producing as his first American film the apolitical romance "Rebecca" (1940).
Hitchcock nonetheless was hurt and surprised by accusations that he hadn't done his bit for the British war effort — but he still wasn't heading home.
Instead, the filmmaker cranked out "Foreign Correspondent," grafting a Hitchcock suspense film — complete with gallows humor and MacGuffin — onto a propaganda picture patently designed to stir the U.S. in action. Pulling some of the ropes was producer Walter Wanger, who came with a reporter's love of breaking news.
The Criterion Collection has released the 1940 Alfred Hitchcock film in its new Blu-ray/DVD combo format, packaged with a handful of decent bonus features. The 1.37:1 images come straight from the original camera negative. Audio and subtitles are strong and clear.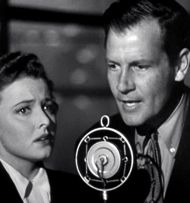 War-film expert Mark Harris says in the included hourlong video interview that "Foreign Correspondent" is "the closest (Hitchcock) ever made to a message movie." (Harris authored "Five Came Back: A Story of Hollywood and the Second World War.")
Star Joel McCrea, Harris says, is clearly a stand-in for "middle America," a sharp but provincial guy in need of convincing that the woes of overheated Europe merit an end to U.S. isolationism.
McCrea's character is a police beat reporter sent to Europe to outwork a big-city paper's comfy foreign correspondent (Robert Benchley). The newbie figures naively that he might check in with Adolf Hitler, whose perspective would be of interest to readers.
The reporter soon finds himself witness to an apparent political assassination carried out by a nest of spies from someplace called Boravia — that's your thinly veiled stand-in for Germany (a direct connection verboten under the U.S. neutrality act).
The reporter teams up with a beautiful peace activist (Laraine Day) and a smooth U.K. journalist (George Sanders) for a series of adventures that begin outside a creepy Dutch windmill and end atop the flotsam from a passenger aircraft shot down at sea.
The pace and tone echo "The 39 Steps" and "The Lady Vanishes," both superior entertainments to "Foreign Correspondent," in part because of its propaganda role. For example, patched on at the end is a call-to-action scene in which our hero alerts America to the axis of evil. Hitch rarely was so obvious or talky.
Author Harris, however, says "Foreign Correspondent" is "more elegant" than its detractors say. Like "Casablanca," its cast and crew were reflective of the times, in which talented European refugees poured into Hollywood.
Criterion's "supplements" include a solid 20-minute talk by Craig Barron, a visual effect supervisor. Barron, who worked on "Titanic," knows a thing or two about watery-grave sequences, and he's a major fan of "Foreign Correspondent's" penultimate scene.
The action after the passenger plane is shot down by Germans was filmed in part by hand-held cameras, "very unusual for its time." Barron walks us through the famed effects in which the plane crashes into the ocean, with water gushing into the cockpit. Hitchcock and company used rear projection for the stunt-plane sequence, but at the moment of impact sent water from two large tanks down slides and through the rice-paper screen. The sequence doesn't fail to thrill, even in the era of CG.
In June 1972, Hitchcock sat for an hourlong interview on Dick Cavett's daytime talk show. It's presented here in full. Hitchcock talks about making the first Jack the Ripper movie — "When I was a boy director" — and charges that subsequent ripper movies were all "copies' of his.
The quotable bits:
The MacGuffin is "the thing the spies are always after" — but the audience doesn't care.
In "The Birds," the seagulls were the "most vicious" animal actors.
Horror movies are ever-popular because audiences love "dipping their toes in the cold water of fear."
His favorite Hitchcock movie is "Shadow of a Doubt."
Other extras: A 1946 radio version with Joseph Cotten; a curious Life magazine "photo drama" by Hitchcock warning of the perils of spreading wartime rumors; and a trailer.
The printed booklet essay comes from James Naremore (the book "Filmguide to Psycho"), who points out that Hitchcock wanted Gary Cooper for the lead role in "Foreign Correspondent," but the star wouldn't lower himself to do a thriller — a stance he'd later regret, as Hitchcock told Cavett.
Related home video reviews:
Check out Glenn Abel on Google+