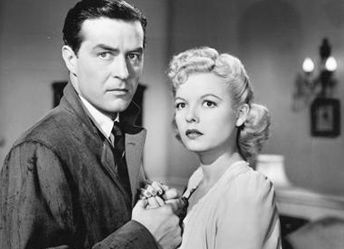 Funny thing about the wrong man: He never, ever did it. This lack of mystery never held back the thriller subgenre, in large part because of Alfred Hitchcock's fondness for tales of the unjustly accused on the run.
The German director Fritz Lang also worked cases of mistaken identity, notably in "Fury" (1936) and "Ministry of Fear" (1944).
The Criterion Collection has revived "Ministry of Fear" in a no-nonsense Blu-ray/DVD presentation of the Graham Greene adaptation.
Lang made several anti-Nazi films upon arrival in the U.S., including "Man Hunt" (1941) and this Paramount project, partly to prove his distaste for the Hitler regime. The story goes that "Metropolis" fan Hitler and his henchman Joseph Goebbels offered Lang the job as chief Nazi filmmaker just hours before the director fled to France. (Lang found his way to Hollywood in the mid-1930s.)
"Ministry of Fear" concerns a haunted man, Stephen Neale (Ray Milland), just released from a rural British asylum. Within hours, he's mistaken for a Nazi spy and handed a bake-sale cake with a secret ingredient that could turn the tide of WWII.
Narrowly escaping death, he returns to London and falls in with various wartime refugees, including an Austrian brother and sister (Carl Esmond and Marjorie Reynolds) who run an oddball charity that could be fronting for Nazi spies. Tracking down the makers of the mysterious cake, Neale ends up at a seance. There's a shot in the dark, a body falls, and our hero goes on the run.
Greene hated the movie version of his novel, it's said, and Lang reportedly apologized to the great writer years later. The plot is linear, easy enough to follow, but needlessly complicated and ultimately dissatisfying — in part because of its cop-out deviations from Greene's bleak story.
Still, "Ministry of Fear" has its strong points, including the performances of Milland, apparent femme fatale Hillary Brooke and DDS villain Dan Duryea. Then there are those claus­trophobic noir visuals Lang brought with him from the land of expressionism (as shot by Henry Sharp). "Even the inanimate environment is made a threat," says the film critic Glenn Kenny, who wrote the liner notes for Criterion. (He calls it "a nightmare film, pure and simple.")
Criterion's Blu-ray offers a crisp image in 2k resolution, sourced from a 35mm safety fine-grain master. Grain and contrasts come in effective measures. The mono audio (24-bit from an optical track print) is clear, forceful when it needs to be.
Joe McElhaney, who looks like a character out of the film, does a 17-minute interview that covers the making of "Ministry of Fear" and the outline of Lang's first years in the U.S. The film historian hails Lang's "very abstract way of making films" with discrete characters that appear to live only in the director's universe — with no past or future.
He compares and contrasts Hitchcock and Lang, calling them "rigid formalists." With Hitchcock, the audience never doubts its heroes; with Lang, there persists a moral ambiguity.
A minor Fritz Lang film such as this, McElhaney points out, would be a "major achievement for most filmmakers."
Glenn Abel on Google+