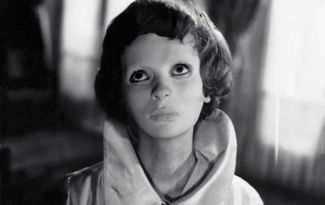 When it comes to classy horror, everything looks better in black in white. See "Dr. Caligari." "Psycho." "Vampyr." "Night of the Living Dead." "Invasion of the Body Snatchers." …
And "Eyes Without a Face."
Georges Franju, director of that French horror classic, once was asked why he preferred his chills in black and white. He pointed to his first film, the poetic slaughterhouse documentary "Blood of the Beasts":
"If it were in color, it would be repulsive."
The Criterion Collection no doubt agrees, bringing us for Halloween 2013 a trio of spooky-sinister tales in black and white: "Eyes Without a Face," "The Uninvited" and "I Married a Witch." They're all on Blu-ray, the better to traverse those fabulous gray scales.
When Franju released his medical horror-show "Eyes Without a Face" in 1960, fainting and disgust were among the primary audience reactions. The French news weekly L'Express noted that moviegoers "dropped like flies" during its most graphic face-transplantation scene. The U.S. distributor didn't even try, removing the sequence.
Jean Cocteau, France's artist emeritus of the weird & twisted, loved "Eyes," of course. He was among those few who "appreciated the beauty and poetry of the film," lead actress Edith Scob recalls in the Blu-ray extras. Otherwise, "it didn't sit well with people."
Franju actually made concessions to commerce in framing his tale of a doctor who tries to replace his daughter's destroyed face — using visages plucked from terrified young women. The doctor couldn't be a truly mad scientist, to avoid Third Reich flashbacks in Germany. The French couldn't deal with too much blood. And England wouldn't tolerate butchery of the doctor's pack of lab-experiment dogs.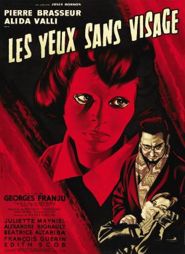 The director imbued his murderous doctor with guilt, "a fatherly love" and "professional vanity" to make him more human. The effect proved more unsettling than downright insanity. "A character is much scarier if he seems to be normal but acts abnormally," Franju explains in a French TV interview.
As the daughter Christine, actress Scob moves like a marionette in a strobe-lit ballet. The actress spent three hours a day having her character's concealing mask applied, taking meals through a straw. "I was isolated in my corner," she recalls of the shoot, an alienation that no doubt added to the drama's realism.
The big reveal of Christine's hideous head — eyes wide open without surrounding facial skin — was filmed mostly out of focus, to nightmarish effect. (It's an update of the money shot in "The Phantom of the Opera.")
"My face frightens me," the doctor's daughter says. "My mask frightens me even more."
The film has at its core three terrific performances — those of Scob, Pierre Brasseur as Dr. Génessier and Alida Valli as the doctor's lover and dutifully murderous assistant ("a foreigner"). The actors elicit a sympathy of sorts for the trio, despite their horrific doings — an ephemeral empathy from the viewer that makes "Eyes" even more unsettling.
In addition to the interviews with Franju (archival) and Scob (recent), there's a documentary on the writing team of Pierre Boileau and Thomas Narcejac, whose own novels were adapted for "Les Diaboliques" and "Vertigo." For "Eyes," they adapted the script from a Jean Redon novel. "We write novels about the victim," they declare. The duo's touch with crime stories elevates "Eyes" from a one-note horror film — the film offers the police-procedural diversions of, say, "Psycho."
Criterion's Blu-ray — an update of the fall 2004 DVD release — also features Franju's short film "Blood of the Beasts" (1949), which isn't to be missed, at least by carnivores who are strong of stomach. It, too, is a haunting film.
The Blu-ray presents "Eyes Without a Face" in a 1.66:1 aspect ration with an uncompressed mono soundtrack. The music is an early effort by Maurice Jarre.
* * * * *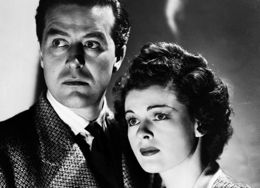 Lewis Allen's "The Uninvited" gets credit for being among the first feature films to take ghosts seriously. The 1944 drama creaks in parts, but has an undeniable creepiness and a few sharp jolts.
The movie stars Ray Milland and Ruth Hussey as a breezy brother and sister from London who decide on a whim to buy a rural seaside mansion.
The duo gets the abandoned place cheap due to its mysterious past, which includes a tragic death on the cliffs. They're still unpacking when the ghostly wailing begins, manifestation of a haunting that they soon come to deal with matter of factly. They see it as a mystery in need of amateur sleuthing.
The amiable smoothie played by Milland ("the existential Carey Grant") composes a piano number for Stella, a young love interest who grew up in the house and is compelled to return (the fragile Gail Russell). That song would be "Stella by Starlight," the jazz standard by soundtrack creator Victor Young.
"Stella by Starlight's" fame exceeds that of "The Uninvited," which was long unavailable on video — call it a ghost of a movie. The film is making its debut in the Criterion Collection, with releases on DVD and Blu-ray.
Charles Lang's cinematography is long on shadows and luscious grays; the work earned him an Academy Award nomination. (Framing is 1.37:1.) The specter special effects, inserted by Paramount in postproduction, aren't bad for the time. The movie comes with strong uncompressed audio (mono).
The movie's lifelong fans include Martin Scorsese and Guillermo Del Toro.
Special features include an awkward video essay by filmmaker Michael Almereyda that focuses on Milland ("Ministry of Fear"), as well as a pair of radio adaptations starring the actor.
* * * * *

1942's delightful "I Married a Witch," also from Paramount, was more typical of Hollywood's spin on the supernatural in those days. Try thinking of it as a prequel to "Bewitched," with Samantha showing up in the final shot.
Veronica Lake stars as a witch from olde Salem who's imprisoned in a tree along with her pushy father. Cut to the 20th century, when a lightning storm frees the duo to seek revenge against ancestors of the Puritan who judged them.
A gubernatorial candidate (Fredric March) is about to be wed. He's a descendant of the Puritan, so the vengeful witch seeks to claim his heart and break it — but ends up losing hers when she mistakenly downs a love potion.
Events play out in screwball/sitcom style — yes, "love is stronger than witchcraft" — with Lake and March an appealing onscreen couple. Sadly, the two hated each other in real life, which both acknowledged in later years. March referred to the production as "I Married a Bitch." (Lake busted his balls, literally and figuratively.)
The French director René Clair was at the helm of "I Married a Witch." There are fingerprints of Preston Sturges and Dalton Trumball on the project, both uncredited due to a round-robin of creative differences.
Criterion's handsome Blu-ray has only one extra feature, an audio interview with director Clair. A bio of the stunning but ill-fated Lake would have played nicely, but perhaps that was too dark a tale even for Halloween.
Glenn Abel on Google+