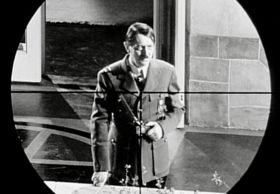 The filmmaker Fritz Lang found his way to Hollywood in the mid-1930s, having just fled Nazi Germany. After helming a few crime movies and westerns for Fox and MGM, he struck back at the Nazis with "Man Hunt," a 1941 thriller/film noir that opens with Adolph Hitler in the crosshairs of a rifle.
"Man Hunt" flirted with violations of the U.S. Neutrality Act, portraying Nazis as thugs and warmongers. (In fact, a Senate panel was probing Hollywood's violations of the Act right up to Pearl Harbor.)
Walter Pidgeon plays English big-game hunter Alan Thorndike, who decided to pursue Hitler in a "sporting stalk" — meaning the trigger wasn't actually pulled once the target was in the hunter's sights. Or so he tells his German captors, who discovered the rifleman, locked and loaded, on a hillside outside the fuhrer's headquarters.
The Nazis decide to cast Thorndike as an assassin sent by Britain, which would help excuse German aggression. The politically neutral adventurer is tortured but refuses to sign a confession. On to plan B, in which he's thrown off a cliff, but survives. Thorndike steals aboard a ship headed for England, with the help of a chipper cabin boy (Roddy MacDowall).
Back in Britain, the fog-and-shadow streets are teeming with German agents, all of whom want Thorndike dead. The handsome man on the run gets help from a young Cockney woman (Joan Bennett), apparently a prostitute. Thorndike kills a German agent (John Carradine) in the Underground, adding city police to his pursuers. The manhunters — and the shadows — are closing in.
Fox Home Entertainment's single-DVD release of "Man Hunt" features a fine restoration whose achievements are on display in the extra features. Worth every bit of effort, since Lang and master cameraman Arthur Miller pretty much re-created the seminal noir of the director's "M." At times, "Man Hunt" looks like a shadow play about menace.
The DVD featurette has various Lang experts telling the film's compelling backstory, including the history of the source book, "Rogue Male," and the long-suspected romance between Lang and young Bennett. ("Rogue Male" was made into a BBC TV movie in 1977, starring Peter O'Toole.)
Patrick McGilligan, author of a book on Fritz Lang, does the feature-length commentary, which is heavy on descriptions of what is happening onscreen. He appears to be reading from notes. Still, the biographer works in plenty of good material about Lang's techniques and career.
Both McGilligan and the making-of docu present as fact the hotly contested story that "Metropolis" fan Hitler and his henchman Joseph Goebbels offered Lang the job as head Nazi filmmaker just hours before the director fled to France.