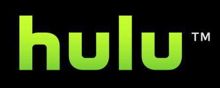 Hulu has lifted the curtain on its beta-driven Labs section — and more importantly its new desktop application for home computers.
The Hulu Desktop, billed as "a lean-back viewing experience," works with robust Macs and PCs (view system requirements). The app is downloaded from the Hulu site. Beyond that no browser is needed. You'll need a current version of Flash for the thing to work.
The Desktop will feel familiar to fans of Boxee, the open-source media center app that Hulu unplugged from its video stream months ago. Unfortunately, the Hulu Desktop starts playing a video upon launch, a feature that's drawing complaints from beta testers.
The Desktop takes commands from remotes for the Windows Media Center and Apple devices (as well as keyboards and your mouse). Linking the computer and your TV monitor would bring Hulu to your living room, of course.
Although you don't need a Hulu account to use the Desktop, it looks like a good thing to link up for those who want access to their queue, histories and playback preferences. "Friends" aren't welcome, so far.
The beta is very much for real. A lot of people are looking for bugs in the Hulu Desktop, and finding them. There seems to be a pattern of crashing after a few minutes of playing. Interesting comments in the thread.
Other products on the Hulu Labs page include a Video Panel Designer, which produces embeddable widgets. Webmasters can select a design from a fairly robust panel, with six color schemes. The width and size are customizable as well. There are various options such as full-length programs or clips.
Some shows and movies are only available as clips. Hulu says that "generally speaking" all of its content is available via the desktop client, but gives itself an out due to content providers' wishes. There are ads on the videos ("limited commercial interruption").
There are persistent reports that Hulu's iPhone app is on the horizon, but this Flash-dependent client is of no apparent help. (It's conceivable that the Hulu-iPhone app could be revealed at the Apple Developer Conference next week.)
The Labs page also has tryout versions of a recommendation system and a modest page for "time-based browsing" that allows users to search by date. The recommendation-feature preview, oddly, requires a login to view.
Macworld has a good overview and basic review of the Hulu Desktop.
You may recall that CBS Labs launched a similar page last year, but it hasn't provided much beyond the preview of the CBS HD player.
System requirements for Mac include "Intel Pentium Core Duo 2.0GHz (or equivalent), Mac OS v10.4 (Tiger) or later, 2 Mbps Internet connection or greater and 2 gigs of RAM. For PC, it's Intel Pentium Core Duo 1.8GHz (or equivalent) and Windows XP or our old friend Vista.)