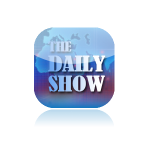 Issuing a "public and fond farewell," Hulu announced that "The Daily Show" and "The Colbert Report" have defected from the online video streaming service.
The news comes as Hulu failed to renegotiate a deal for content from Comedy Central, owned by Viacom.
Update: The comedy news shows returned to Hulu a year later. /update
Hulu cast the departures as a wrenching loss for its viewers: "Our users have been extremely vocal and passionate about how much they love what the Comedy Central folks are doing." The fun's over on March 10.
In a Hulu blog post about Comedy Central that reads like a hail-Mary bit of negotiation, Hulu added: "We've driven steadily increasing revenue per view as advertisers voted with their budgets to take advantage of innovative ad formats and very strong advertising effectiveness."
Comedy Central replied: "We had a great experience with Hulu, and we hope to work with its team again in the future."
Hulu viewers were quick to pile on: "Let your corporate sponsors know that me and quite a few other people will be heading back to torrents due to this," one guy groused.
The two late-night shows remain free on their own websites. But the video images are sharp and clear on Hulu, while the Comedy Central streams look soft, with oddly oversaturated colors. The audio seems a bit better on Hulu as well.
"The Daily Show" and "The Colbert Report" debuted on Hulu in the summer of 2008. Hulu's traffic began its dramatic gains about that time.
Erik Flannigan, executive vice president of digital media at MTV Networks, said at the time that the Hulu placement was a public service, given the creepy fact that something like 20 percent of young Americans said they got their political news from Stewart and his comic spawn.