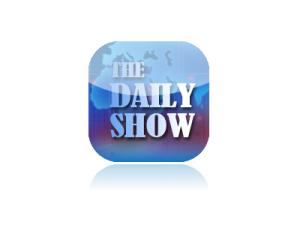 "The Daily Show," the "most trusted name in fake news," is just in to Hulu.
Jon Stewart's long-running Comedy Central spoof on politics and current events joined the NBC Universal-News Corp. streaming video site today, with last night's show front and center.
Complete episodes available for online viewing today on Hulu date back a month, to May 12.
Tagging along, as always, is "The Colbert Report," a spoof of dumb-ass cable news commentators such as those found on News Corp.'s Fox News Network. Stephen Colbert developed his right-wing putz character on Stewart's show.
Content provider Viacom says the "Daily Show" streams are tests, with other content apparently to follow. The shows now are available in full on comedycentral.com, which previously offered only clips, to the displeasure of legions.
Erik Flannigan, executive vice president of digital media at MTV Networks, told Reuters that the Hulu placement is a public service, sort of.
"Hulu in many ways may put the shows in front of some people who might be more casual viewers but who might be interested in what's going on with the elections," Flannigan said. Sounds ridiculous, but something like 20% of young adults have cited "The Daily Show" as their source for election news. (Reread paragraph for chilling confirmation of what you think you just read.)
"Daily Show" and "Colbert" were bitstream staples, which will remain the case for overseas fans. The episodes are available only to U.S. viewers.
Feel free to bombard your "I don't get it" friends with emailed "Daily Show" clips. (Except me. Please.) Hulu is breaking out highlights that can be embedded and emailed.
For the streaming video site, it looks like the killer ap has arrived.
Remember way back when, when the online video elite all laughed at big media's Hulu and its stupid name? Ho. Ho. Ho.