Thirteen films directed by Alfred Hitchcock will make their debut on Blu-ray as part of Universal's Sept. 25 release of "The Masterpiece Collection."
The headlines will be for the long-awaited Blu-ray bows of "Rear Window," "The Birds" and "Vertigo."
The other HD debuts appear to be "Saboteur," "A Shadow of a Doubt," "Rope," "The Trouble With Harry," "The Man Who Knew Too Much," "Marne," "Torn Curtain," "Topaz," "Frenzy" and "Family Plot."
The remaining two films in the 15-movie set are "North by Northwest" (Warner) and "Psycho," both previously rendered on Blu-ray discs.
The high-definition release of "The Masterpiece Collection" essentially upgrades and repackages the 2005 box set of the same name. The film titles are the same except for the "North by Northwest."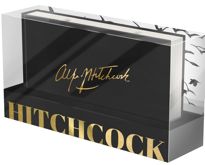 The line-up of featurettes and documentaries will be familiar to owners of the 2005 as well.
At least 10 Blu-ray versions of films by the Master already have hit the home video market, with the bulk coming in recent months.
This year's Hitch HD releases include Criterion's new "The 39 Steps"

; Fox's recent Selzneck & Hitch trilogy of "Notorious," "Rebecca" and "Spellbound"; Paramount's bow of "To Catch a Thief"; and Warner's re-do of "North by Northwest." Criterion rolled out "The Lady Vanishes" in December.
Universal's Hitchcock HD set is sailing for the U.K., with Amazon showing an impressive box for the set (pictured). The Blu-rays are coming out in Britain on Oct. 1.