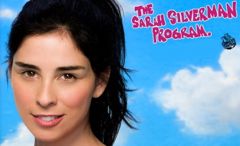 Amazon's Prime members soon now be able to stream TV fare from Viacom's massive cable network catalog.
The deal, which had been expected, includes older programming from Comedy Central, Nickelodeon, TV Land and MTV.
Amazon spun the news as more content for its Kindle Fire — "the Kindle for movies, TV shows, music, magazines, apps, books, games, and more." Amazon Prime, that slightly odd set-up, gives annual subscribers two-day delivery of retail goods as well as access to the free streaming video catalog.
The Viacom streaming video deal puts the number of "Prime Instant Videos" at 15,000, Amazon said in a press release. That's up significantly from last year's launch, but still way behind industry leader Netflix.
The deal is for reruns: Comedy Central offerings, for example, will include the popular "Chappelle's Show" and "The Sarah Silverman Program" — neither of which have been on the broadcast schedule in years — but not its current flagship programs, "The Daily Show" and "The Colbert Report," which can be seen on Hulu and Hulu Plus.
Amazon previously scored content deals with CBS, Fox, PBS, NBC Universal, Sony, Warner Bros. and Disney-ABC. Other Viacom channels providing content for the Amazon deal are Spike, MTV, VH1, BET, CMT and Logo.
Viacom shows have been streaming on Netflix almost since it began Watch Instantly. Viacom chief Philippe Dauman found himself defending that streaming TV content deal late last week in the face of declining ratings at Nickelodeon.
Amazon stock was up .7 percent on the news of its Viacom deal, while Netflix saw its stop drop more than 3 percent. Netflix investors also absorbed the news this week that Redbox and Verizon were planning some kind of streaming/DVD rental service.