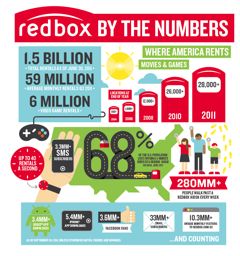 Verizon and Redbox say they've combined to create a new "digital and physical" home video service that will rival Netflix.
The "national multiplatform product" will combine DVD/Blu-ray rentals with a streaming video component, as Netflix has done since 2008. The partnership's announcement was short on detail, however.
No content deals were announced for the service, which apparently will use the Redbox name and branding. Redbox and Verizon said they would "introduce the product portfolio in the second half of 2012."
Netflix investors shrugged off the news, and the stock continued its gradual recovery with an increase for the day just above 2 percent.
Redbox, the onsite video rental company familiar to grocery store shoppers, signaled its intention to start a streaming service more than a year ago. The new element is the participation of Verizon, which delivers cable TV-style video to homes (FiOS) and mobile phones (VCast). The Hollywood Reporter said the new video venture had a warchest of about $450 million.
"By offering instantly available online and mobile content with immediate access to physical media through rental kiosks, Verizon and Redbox will be uniquely positioned to deliver the best of both worlds — digital and physical," the newlywed companies said.
Verizon will own the majority share (65 percent), with Redbox parent Coinstar Inc. taking the remainder.
"When you consider the core elements the parties bring to this venture — our powerful brands; our national rental kiosk footprint; our anytime, anywhere network presence; and our mutual commitment to customer-focused innovation — it's clear that Verizon and Redbox are a powerful entertainment team," press-released Bob Mudge, president of Verizon consumer and mass business markets.