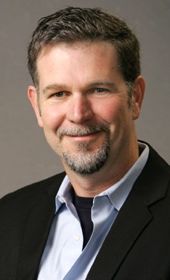 Netflix's tale of woe took a turn for the even-worse as the company reported third-quarter subscriber losses that were deeper than it had predicted only a month ago.
Netflix also predicted lower revenue and profits for the fourth quarter.
The earnings release came after the bell, and Netflix investors braced for another sickening day at the market. The losses on Tuesday came to 35 percent of the stock's total value.
A series of analysts downgraded the stock and several talked of a "nuclear winter" scenario playing out.
For Q3, Netflix beat the street with increases in revenues and earnings, but the subscriber defections dominated the news.
CEO Reed Hastings (pictured) said once again that he had no plans to step down.
"We've hurt our hard‐earned reputation, and stalled our domestic growth," Hastings wrote in a letter to shareholders. The letter went on to balance acknowledgements of its string of corporate errors with long-term predictions of success.
The letter appeared to blame some of its woes on a "PR storm that engulfed our brand."
It predicted that DVD subscriptions would decline sharply in Q4, but noted that the "weekly rate of DVD cancellation is steadily shrinking."
Netflix ended the third quarter with 21.4 million streaming subscriptions and 13.9 million DVD subscriptions. It said DVD subs could number as few as 10.3 million at the end of Q4.
More Netflix:
Third-quarter letter to shareholders
Earnings Q&A session
Quick death for Qwikster
Has Netflix lost it?
(Updated after market close Oct. 25.)