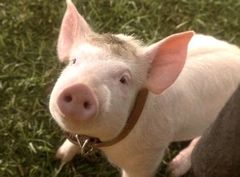 Amazon Prime beefed up its streaming video offerings via a catalog deal with Universal Pictures (NBC Universal).
The influx of movies means Amazon Prime has about 9,000 titles — films and TV combined — for unlimited streaming.
Amazon Instant Video is "free" to customers who pay $79 a year for Prime two-day shipping.
The Universal catalog titles include familiar films such as "Babe" (pictured), "Elizabeth," "Fear and Loathing in Las Vegas," "Notting Hill," "Being John Malkovich," "Billy Elliott" and "Fletch." No current or recent video releases are included, as is typical of quantity-first catalog deals.
Amazon reached a similar deal with CBS a week ago, adding 2,000 TV episodes.
The Amazon-Universal deal is non-exclusive.
Netflix has a similar arrangement with NBC Universal Domestic TV Distribution that was renewed in mid-July. That deal expanded the selection of film and TV library titles available to the Netflix Watch Instantly service.
Netflix content chief Ted Sarandos said the ongoing relationship with NBC Uni "has led to regular expansions of programming for our subscribers."
Netflix CEO Reed Hastings' letter to shareholders earlier this week said it was "mindful" of Amazon Price (and Hulu Plus). "We have vastly more streaming content, are available on more streaming devices and are purely focused on subscription video streaming. So far, we haven't detected an impact on our business from Amazon Prime," Hastings wrote.