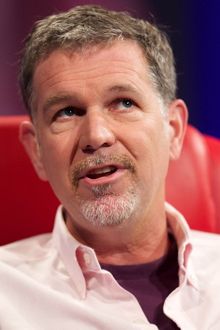 About 75 percent of new subscribers to Netflix signed up for the streaming video plan, the media company said in its second-quarter earnings results.
Investors, however, focused on upcoming Netflix subscriber losses due to its new pricing plans, which enraged alienated many subscribers. The changes will result in 60 percent increases for subscribers who get DVDs in the mail as well as view steaming video.
"We are feeling great about the decision, as tough as it is," Netflix CEO Reed Hastings (pictured) told investors in a conference call.
Stock prices also were depressed by Netflix's warning for the third quarter that higher programming costs will cut into its margins.
Netflix stock fell 10 percent when the Q2 earnings were made public, after the bell on Monday, July 25. In trading Tuesday, losses were trimmed to about 5 percent. The stock was up modestly in before-the-bell trading Wednesday. Netflix stock is up about 65 percent for the year.
Analysts were all over the road in predicting what the rest of 2011 holds for Netflix and its shareholders. A slight majority seemed to think Netflix still had upside potential.
Subscriber defections "will be more than offset" by increases in average revenue per user, a Credit Suisse analyst said.
Netflix said that with the rate hikes, it would "be able to further increase the scope and quality of our streaming content."
Other nuggets from the second-quarter report and the letter to Netflix shareholders:
Netflix has over 25 million subscribers, up 70% from 15 million a year ago. It added 1.8 million domestic subscribers in Q2. That was more than 64% more than the comparable 2011 period.
Netflix has been going back and forth on the future of its red-envelope DVD rentals. This time, the company said DVD shipments "have likely peaked." When the price hikes were announced, Netflix maintained that it had been surprised by the resilience of the DVD demand.
The company offered no report of progress in the Sony-Starz dispute that led to Sony films being removed from Watch Instantly. "We are hopeful these two valued partners will resolve this issue soon," Netflix said in the Q2 report.
"We aren't planning to bid on Hulu because most of its revenue is from providing free ad-supported streaming of current season TV shows, which is not our focus."
"It is expected and unfortunate that our DVD subscribers who also use streaming don't like our price change. … We hate making our subscribers upset with us (but) we're working hard to further improve the quality and range of our streaming content in Q4 and beyond."
Netflix projects the end of Q3 will show 22 million subscribers to the streaming service, and about 15 million subscribers to the DVD service (allowing for overlaps). Here's a visual of what they're expecting: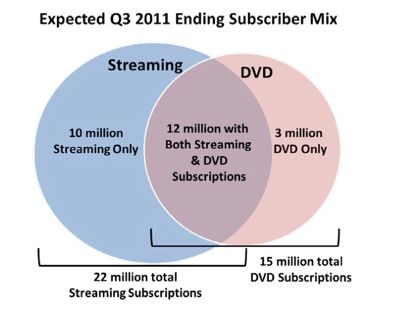 Meanwhile, Netflix reportedly was closing in on an exclusive stream deal with DreamWorks Animation SKG. The pact would replace DreamWorks' pay TV arrangement with HBO. The Hollywood Reporter said that HBO had agreed to let DreamWorks CEO Jeffrey Katzenberg find another home for its children's films.