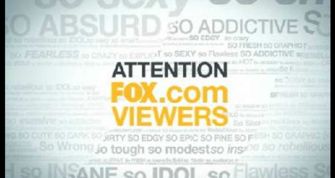 No more "Glee" the morning after. Unless you're a paying customer.
Fox said that beginning in mid-August, fresh episodes of its shows will no longer be available for free online viewing the next day. That access will be limited to subscribers of cable and satellite distributors that partner with Fox. And the paid Hulu Plus service.
"To watch new episodes of Fox shows the next day, viewers can visit Fox.com, Hulu.com, Dishonline.com or the online TV portals of any future participating distributors and log in with their subscriber usernames and passwords," Fox said in a statement on the online viewing change. The story was broken July 27 by the Wall Street Journal.
There will be an eight-gap for those who missed the broadcast and want to see the episode on existing online video services. In other words, Fox has put up a pay wall — an exclusive "window."
On Hulu, that means a subscription to its year-old premium tier, Hulu Plus, a rival of sorts to Netflix. The subscription costs $8 a month. Fox (News Corp.) is one of the owners of Hulu, at least until it's sold.
Fox said the idea was to "enhance the value of pay television to subscribers" — that decodes as, keep existing cable/satellite distributors happy.
It's the latest confirmation that content providers who once were happy to get extra revenue from online video are now waking up to their content's value in the digital domain. They're also weighing the threat of tech-friendly viewers "cutting the cord" to cable and subscribing just to Netflix and/or Hulu.
Dish Network will be the first distributor to offer the new episodes online. It has an existing web site devoted to video streaming (DishOnline.com). "Early access to Fox.com is a terrific addition to our expansive TV Everywhere platform," said Dave Shull, senior vice president of programming for Dish Network.
ABC is considering a similar move, sources told the New York Times. In April, Starz intiated a 90-day hold on its new episodes before they're shown on Netflix, which shrugged off the change.
This Fox "authentication" scheme applies only to online viewing. All other viewing options remain the same — including free over-the-air broadcasts.
See what Peter Griffin thinks of the big change.
* * * * *
Meanwhile, Netflix announced an international output deal with CBS that allows streaming of some TV/cable series to Canada and to Latin American markets. The two-year deal is nonexclusive. Netflix and CBS already have a programming pact in the U.S.
Netflix expanded into Canada last year. The CBS programs will be available there in September. Netflix said in early July that it would be launching in 43 countries across Mexico, South America and the Caribbean later this year.
Shows include "90210," "Nurse Jackie," "Californication," "Medium" and "Dexter," as well as CBS catalog fare.