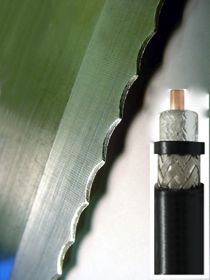 Subscribers who stream Netflix's videos are twice as likely to downgrade or cancel their cable TV service — the much-debated "cutting of the cord" — a new study finds.
A digital think tank says its survey of Netflix subscribers shows the likelihood of them downgrading or dumping cable or satellite TV soared to 32 percent in 2011 — up from 16 percent in 2010.
"The question for realistic observers has been not if this will occur but when," Greeson continued. "According to our latest research, that time is upon us."
When Netflix chieftan Reed Hastings was asked earlier this month if his company was "encouraging cord-cutting," he replied, as always: "Nope."
"There was cord-cutting last year, but that was due to the economy. Now cable subscriptions are up, and we're growing, now at 23 million subs," Hastings said at the All Things Digital conference. "So it appears that to the consumer, Netflix is complementary."
The survey's analysts weren't buying it: "Despite its rhetorical positioning, both Netflix and pay TV operators have long been aware that there will come a point at which (Netflix's streaming) services are not only dilutive to regular TV viewing, but antithetical to pay TV subscription levels," says Michael Greeson, director of research for the DIffusion Group.
Hastings' burning desire for acquiring HBO originals may not be just a fan's yearnings, considering Netflix would be getting cable TV's tiffany programming.
While viewers with adventurous or indifferent viewing needs could see streaming video from Netflix and/or Hulu Plus as an economical alternative, cutting the cord does nothing for people who want to keep up with global news, live sports, weather, the stock market, etc. Put another way: No cable, no ESPN, CNN, Weather Channel or CNBC.
Still, a case could be made for dumping cable in favor of Netflix (movies, mostly) and Hulu Plus (TV shows, mostly), combined with a digital TV antenna for local channels. The going rate for full streaming from Netflix and Hulu Plus adds up to less than $20. The average cable TV bill is about $75, with satellite users paying about the same or more.
Among the Netflix "streamers" surveyed, half cited economic reasons for cutting back on cable TV services. But 61 percent of frequent users of Netflix's streamed content who expect to downgrade cited online video as the primary reason for the cutbacks. Two-thirds of these streaming video fans pointed to their Netflix use.
One way the cablers can and will fight back: Capping broadband use by their cable-modem customers. Heavy users of Netflix streaming content already are bumping up against some broadband caps, which could trigger slowness or increased fees. Mass adoption of cloud services (Apple, Amazon, etc.) won't help matters, either. (Comcast already has played hardball in this arena, as have cablers in Canada.)
David Pogue of the New York Times noted in a story on the cloud's toll on bandwidth capacity: "Look at the enormous shifts in TV and movie watching. Those, too, are raining down from 'the cloud.' "
The DIffusion Group describes itself as "an analyst and market strategy firm focused on the emerging digital media ecosystem." The Netflix study involved 2,000 U.S. broadband users contact in March.