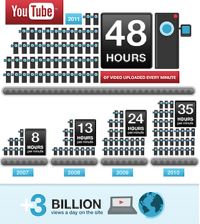 YouTube guaranteed itself a happy sixth birthday by announcing that it has hit the 3 billion views per day mark — an increase of about 50 percent over last year.
That makes roughly 90 billion individual video views a month.
YouTube says the 3 billion a day figure translates to "the equivalent of nearly half the world's population watching a YouTube video each day" — a generous bit of rounding up considering there are 7 billion humans on the planet, but still …
YouTube also celebrated with the news that more than 48 minutes of video content are uploaded to its servers per minute. That's a 37% increase over the past six months and 100% over 2010 figures.
From another angle, let's crunch some stats on YouTube ("Google Sites") as just reported by comScore.
There are about 311 million people in the United States. 142.7 million of them found their way to YouTube ("Google Sites") in April, according to comScore. Average time spent on YouTube (Google sites) in the U.S. was 286 minutes a unique visitor in April, comScore reported.
Assuming the typical YouTube video is 3 minutes (as is frequently reported), that means the typical U.S. visitor to YouTube streams 95 pieces of content a month.
That brings us to 13.5 billion YouTube videos viewed over the month in the U.S. (This time of year in 2009, comScore gave the figure as 7 billion — vs. 5 billion in late 2008.) Leaving a whopping 76.5 billion monthly video views for non-U.S. users, if you go with the overall 90 billion videos a month estimate.
Something doesn't quite add up — perhaps due to embedding — but let's leave it there for now.
YouTube's and comScore's numbers are apples and oranges for several reasons — for one, the online industry has long complained that the number of video streams per day have been vastly underreported by ComScore and its main rival, Nielsen — but however you figure things these are gigantic numbers.
And our birthday child is only 6 years old.