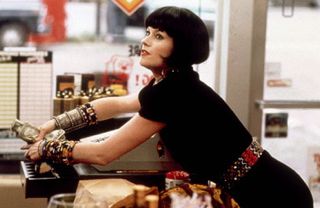 Time hasn't tamed "Something Wild."
Jonathan Demme's red-hot-mama road movie returns on Blu-ray and DVD, all dolled up by the Criterion Collection.
Unlike most hipster movies of the 1980s, "Something Wild" still hits on all of its cylinders: sex, violence and screwball madness.
Very little feels dated, really: Credit Demme's forward-looking soundtrack, stuffed with reggae and world beat music. And the casual yet stunning performance by Melanie Griffith, in what has to be her best role as Lulu/Audrey.
The fish out of water tale has everyman-in-a-suit Charlie (Jeff Daniels) meet cute with Lulu in Manhattan. She's a Louise Brooks knock-off — jet-black bowl hair-do, '80s black-stretchy outfit covered in African beads and necklaces. She's into sex and larceny.
Charlie decides to chuck it all and drive away with Lulu, swigging whiskey as they go. One state later, Charlie has a moment of clarity and balks. "If you don't want to hang around, then go back to your barbecues and brunches," she scolds him.
Down the road, they roll through Lulu's past as small-town Audrey. They visit her mom (pretending to be married) and attend a high school reunion. Charlie's lapping it up, until he meets his new lover's ex-husband, Ray, fresh out of the slammer. Let the weird times roll. …
"It's a movie that depends on the element of surprise," says director Demme, in an understatement.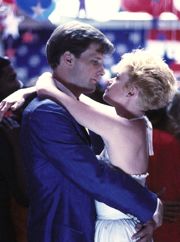 The "Wild Thing" Blu-ray looks good, but not great, on Blu-ray. Demme's "hothouse of colors" come through just fine, but there's a screen of grain resting atop the images (1.78:1 with framing). Still, the movie looks fresh and bold. No damage mars the viewing experience.
Audio is in stereo DTS HD Master Audio. Music sounds great; dialogue is mostly clear.
1980s punk star John Doe was considered for the Ray role, but Demme didn't find him threatening. Cut to film rookie Ray Liotta, still in acting school. "He scared the hell out of me," Demme says in the new 33-minute video interview that accompanies the Criterion title.
Even with all that menace, Demme says, "You have to really beware of making the bad guys bad guys." Thus we have Ray, a psycho with a soft spot for old Charlie. For a while.
Melanie Griffith was in Demme's mind's-eye as he first read E. May Frye's original script. He'd seen her in Brian De Palma's "Body Double." Kevin Kline had the inside track as Charlie, but that fell through and then "something really clicked" with Jeff Daniels — "a formidable actor who is also funny."
From B-movie master Roger Corman, Demme learned to take extra care with casting the extras. The movie is packed with great little performances. "The movie is in the hands of whoever you're cutting to," Demme explains. John Waters shows up as a used car salesman. John Sayles plays a motorcycle cop.
Demme ("Heart of Gold") admits he was "consumed with the musical dimension." He brought in pal David Byrne, whom he'd directed in the concert film "Stop Making Sense," to do an opening take on "Wild Thing." That Troggs' classic remains in heavy rotation throughout the movie, which ends with a rap-reggae version by Sister Carol.
Demme wanted all of the music to be "source only," meaning it had to come out of a radio or jukebox or band as part of the action. Where that wasn't possible, he used score music by the eternally hip John Cale and Laurie Anderson.
Other artists included on the soundtrack are Doe's X, Oingo Boingo, Fine Young Cannibals, Jimmy Cliff and UB40 — not a tinny new wave act among them.
"How good can the music get in one movie," Demme marvels today, just saying.
Demme's interview winds and weaves a bit, but it's a fun listen. Also interviewed for Criterion was writer Frye, who tells how he got the idea in a bar, with a punk girl incongruously chatting with a pinstripe businessman.
Check out Glenn Abel on Google+