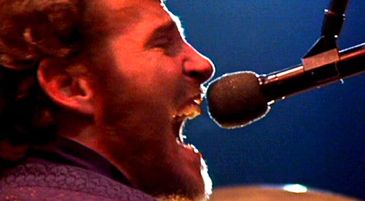 Martin Scorsese's "The Last Waltz" — the "Raging Bull" of concert movies — opens with a knockout punch: Members of the Band, exhausted after six hours of nonstop performing, power into their final song, "Don't Do It."
Although the performance was recorded live nearly 30 years ago, the Blu-ray audio startles with its punch and immediacy. Bass and drums rattle and roll. The 5.1 mix creates a roomy in-the-round effect. The 1.85:1 images — shot in beautiful 35mm by a who's-who of top cameramen — come out of the shadows into dramatic contrast and pinpoint focus as the song accelerates.
It's one of the best moments from what is arguably the finest rock concert movie ever made. The Blu-ray overhaul, with a new film transfer and audio remixes by Band leader Robbie Robertson, should thrill the film's many admirers, most of whom haven't experienced it in years.
MGM Home Entertainment released the 1978 film as a special-edition DVD in 2002. The Blu-ray version of "The Last Waltz" came in 2006, and then both were repackaged as a two-fer in 2010.
The DVD/Blu-ray combo provides more than just a double dip for the studio as the high-def disc is missing some extra features. Both discs include a commentary track by good friends Scorsese and Robertson as well as the surprisingly good 22-minute featurette, "Revisiting The Last Waltz."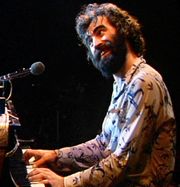 The special edition DVD, however, also contains a second commentary track with singer-drummer Levon Helm and other players from that night. DVD-only also are some bonus feature jams, including a noodly session with Ringo Starr on drums. The photo gallery and booklet also are MIA on the Blu-ray.
The Blu-ray does have a most-appropriate upgrade, a choice between Robertson's audio remixes in PCM (lossless) or Dolby Digital 5.1 surround.
Part of the film's enduring appeal remains the Band's then-unique music, which looked backward and forward at the same time. While arena rock raged and disco loomed, the Canadians distilled rural sounds and lyrical imagery from days long past, while never losing the backbeat. The world's first roots rockers were so influential that "Last Waltz" guest Eric Clapton disbanded his improv band Cream after hearing their precision.
The "Last Waltz" concert came together in about a month, beginning as a simple farewell concert at San Francisco's Winterland. Top stars of the day such as Clapton, Bob Dylan, Neil Young, Joni Mitchell, Muddy Waters and Dr. John joined the bill as musical guests. Plans for a 16mm docu film evolved into a 35mm feature with red-hot director Scorsese calling the shots along with Robertson, the producer.
Scorsese recruited production designer Boris Leven ("New York, New York") and director of photography Michael Chapman ("Taxi Driver"). Leven transformed the bare concert hall into an evocative opera hall, using sets from a local "La Traviata" production. Scorsese and Chapman mapped out camera moves and lighting as if they were fielding a studio film, creating a "musical script." "I thought, 'This guy is serious,' " Robertson remembers of the director he hired. "He's going in like Alfred Hitchcock."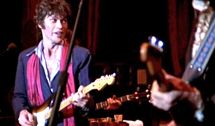 Music fan Scorsese worked without a contract, saying he had "a crazy desire to get this on film." Scorsese avoided the rock film cliches he helped establish as a cutter on "Woodstock." No split screens, no fan reaction shots. While most of the numbers were captured live onstage, several were done on soundstages, allowing Scorsese's cameras to roam freely. One set piece, the Band's hit "The Weight," features the Staple Singers in an astounding merger of film and music artistry.
Scorsese tells of the great difficulty in recording such a long stage show with 35mm cameras, never built for extended shooting. Cameras melted down, film ran out, great performances were lost because of goofs. (The DVD-only jam session with Starr goes blank near its end as film runs out.)
The film delivers some compelling offstage drama. In the last of its interview segments, Robertson, old before his time, speaks with clarity and emotion of the road weariness that was ending the Band. He recites a roll call of rock fatalities, and concludes: "It's an impossible way of life." Seconds later, in the concert film's final frame, Robertson's now-deceased bandmates Richard Manuel and Rick Danko leave the stage together.
Even today, Scorsese says, he cannot bear to watch the film at times because it is "too moving."
> Related content: "Monterey Pop" on Criterion Blu-ray.